Emma and Noah are most popular US baby names for 2014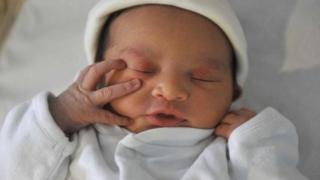 Noah and Emma are the most popular baby names in the US, according the Social Security Administration.
For the second year in a row, Noah topped of the list for boys. Liam, Mason, Jacob and William rounded out the top five.
Emma is on top again for the first time since 2008 followed by Olivia, Sophia, Isabella and Ava.
Religion and pop culture have been influences for baby naming trends throughout history.
Emma's popularity was influenced by the TV show "Friends" in 2002 when one of the characters, Rachel, named her daughter Emma.
"In this era when trends come and go faster than ever before, that's incredible staying power," said Laura Wattenberg, founder of BabynameWizard.com. "Emma seems to be the only name that America has been able to agree on in recent years."
High hopes for Charlotte
When the Duke and Duchess of Cambridge announced on Monday that they were naming their baby daughter Charlotte, many, including Jennifer Moss, founder and CEO of babynames.com expected the name would hit the top in the coming years.
Even before the announcement, Charlotte cracked the top 10 for the first time, at No. 10.
John and Mary were the top baby names in 1880, the first year for which the Social Security Administration website provides an annual list.
John is now number 26 and Mary has fallen to number 120.