Aaron Hernandez, ex-NFL player, 'shot witness'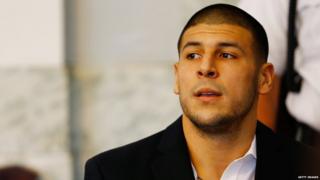 Former New England Patriots player and convicted killer Aaron Hernandez has been charged with witness intimidation, prosecutors have announced.
The 25-year-old was found guilty last month of killing Odin Lloyd, the boyfriend of his fiancee's sister.
He is facing two more murder charges after being accused of shooting two men in 2012 after a nightclub row.
And on Monday it emerged that Hernandez is accused of shooting a witness to the nightclub murders.
He was indicted by a grand jury in Boston on a charge of witness intimidation, the office of Suffolk County District Attorney Daniel Conley announced.
"Hernandez allegedly shot him in the face on the morning of 13 February 2013, and left him to die on the side of the road in Riviera Beach, Florida, after the witness made a remark about the homicides," the office said in a news release.
The witness is a former friend named Alexander Bradley, according to court proceedings.
Hernandez lost his Patriots contract worth $40m (£27m) and is now serving life in prison.
A hearing on the murder charges will take place next week, although Hernandez is not likely to attend.