Waco biker shoot-out: 170 face charges in Texas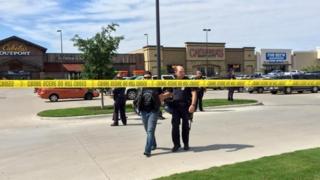 Texas police say 170 people are to face organised crime charges after a bike-gang shooting that left nine people dead and 18 others injured.
The feud broke out between several gangs at a shopping district in Waco.
What started as a fist fight soon descended into a battle with knives, clubs, chains and eventually guns.
One witness described the scene as "a war zone", while a Waco policeman called it the most gruesome scene he had encountered in his career.
The number of those charged was revised down from 192, a figure police announced early on Monday.
The incident happened shortly after midday on Sunday at the Twin Peaks Sports Bar and Grill in a shopping area called the Central Texas Market Place.
Up to five rival gangs got into a fight, apparently over parking space near the restaurant. Diners and staff at the nearby cafe managed to lock themselves in a freezer room for safety and were later escorted off the premises by armed police.
"Twenty-five feet away there were families," Waco police sergeant Patrick Swanton said.
"This is one of the worst gunfights we've ever had in the city limits. They started shooting at our officers."
Twin Peaks' management said on Monday it would close the Waco restaurant.
The restaurant's corporate parent cut ties with the Waco location on Monday.
Rick van Warner, a spokesman for the company, said managers of the branch "chose to ignore the warnings and advice from both the police and our company, and did not uphold the high security standards we have in place to ensure everyone is safe at our restaurants."
The authorities have increased security in the area to prevent further outbreaks of violence, as there are fears some of the gang members might return.
Police are to conduct tests on more than 100 cars or bikes found at the scene.
---
Who are the gangs who lost members in the shoot-out?
The Bandidos
Formed in Texas in 1966 by former US Marine Don Chambers
Now has between 2,000 and 2,500 members in 14 countries
Classified as an outlaw motorcycle gang by the FBI
Responsible for distributing cocaine and marijuana, according to the US Dept of Justice
Produce and distributes methamphetamine, according to the USDOJ
The Cossacks
Founded in 1969 in Texas
Motto: "We take care of our own"
Two members were stabbed in an attack, allegedly by Bandido members, in 2013
Sources: US Department of Justice, Bandidos MC, The One-Percenter Encyclopedia
The world's deadliest bike gang wars
---
Sgt Swanton said preliminary findings indicated that a dispute had broken out in a bathroom and eventually spilled over into the restaurant car park.
"I was amazed that we didn't have innocent civilians killed or injured," Sgt Swanton said.
"In 34 years of law enforcement, this is the most violent crime scene I have ever been involved in," he added.
A spokesman for McLennan County Court in Waco said the 170 people were being formally charged at the local jail, and that processing the large number of cases was proving to be "a big, big deal".