George HW Bush in hospital with neck injury after fall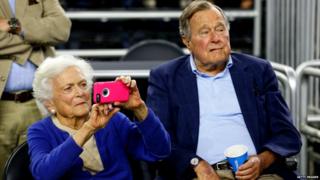 Former US President George HW Bush has been admitted to hospital after breaking a bone in his neck in a fall at his home in Maine.
His spokesman said he was in a stable condition and his hospital stay was expected to be brief.
Mr Bush, who has Parkinson's disease and cannot use his legs, celebrated his 90th birthday last year with a sky dive.
He had to go to hospital at the end of last year with shortness of breath.
Two years before that, he was treated for more than two months for bronchitis and other issues.
Spokesman Jim McGrath said Mr Bush would need to wear a neck brace following his fall on Wednesday morning in Kennebunkport.
On Thursday, his granddaughter, Jenna Bush Hager, said the family were "optimistic that he will heal well".
Mr Bush is the oldest living former US president and a World War Two veteran.
President from 1989 to 1993, his son George W Bush was in the White House from 2001 to 2009.
Jeb, another of his sons, is currently seeking the Republican nomination to run for president in 2016.