Caitlyn Jenner makes appeal for transgender acceptance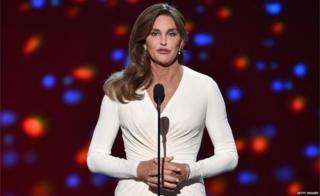 Caitlyn Jenner has called for the acceptance of transgender people after accepting a bravery award in Los Angeles.
The reality star and former athlete made her first public appearance since coming out as a transgender woman.
Speaking to an audience of sports stars after accepting Arthur Ashe Award for Courage, she said she had struggled with her identity since childhood.
She called for "a more empathetic society and a better world".
Ms Jenner confirmed her plans to transition into a woman in an interview in April.
As Bruce Jenner, she won the decathlon at the Olympic Games in Montreal in 1976. She is seen as the highest-profile American to come out as transgender.
Ms Jenner was given a standing ovation on Wednesday night at the awards ceremony, which was hosted by sports network ESPN. The Arthur Ashe Award for Courage is named after the tennis player who died of Aids.
"If you want to call me names, make jokes, doubt my intentions, go ahead - because the reality is, I can take it," she said.
"But for the thousands of kids out there coming to terms with being true to who they are - they shouldn't have to take it."
She went on to tell sports stars attending the event that their words and attitudes could set an example to others.
"Whether it's about courage, or controversy or publicity, it's about what happens from here," she said.
"It's not just about one person, it's about thousands of people. It's not just about me, it's about all of us accepting one another."
But one sports star attending the event - boxer Evander Holyfield - said afterwards: "I just know that's Bruce Jenner and I'll leave it at that."