LaGuardia Airport in New York set for sweeping overhaul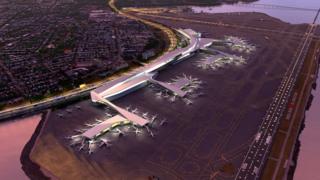 New York Governor Andrew Cuomo has unveiled a sweeping plan to rebuild the ageing terminals of LaGuardia Airport - one of the busiest in the US.
Vice President Joe Biden - who previously compared the airport to "some Third World country" - was on hand for the announcement on Monday.
"I wish everything I said that was truthful but controversial would turn out this well," Mr Biden said.
The redesign will double the space available for planes to operate.
Work is scheduled to start next year, and the first redesigned portion of the airport will open to passengers in 2019.
The airport, which sits along the East River in Queens, is frequently ranked as one of the worst in the US, according to customer surveys.
"It's slow, it's dated, it has a terrible front-door entrance way to New York," Mr Cuomo said.
The governor said Mr Biden was instrumental in securing federal funding for the project. Delta Airlines will also shoulder some of the costs of the $4bn (£2.5bn) project.
With short runways that are surrounded by water, the airport has been dubbed "USS LaGuardia" by some pilots who say landing there is like arriving on an aircraft carrier.
Nearly two miles (3.2km) of new taxiways will be created under the plan, which will make landings easier for pilots.