Donald Trump axed from event over Megyn Kelly blood comment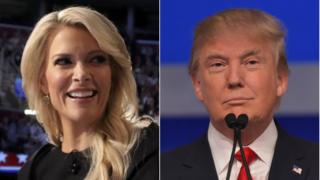 A major US conservative forum has dropped Donald Trump as a speaker, saying it was unacceptable for him to suggest that a journalist was tough on him because she was menstruating.
Mr Trump said Megyn Kelly of Fox News "had blood coming out of her eyes, blood coming out of her wherever".
Ms Kelly had challenged him on remarks he made about women during a TV debate.
Amid the controversy it emerged that Mr Trump's top political adviser had left his campaign.
Mr Trump said he had sacked Roger Stone. But Mr Stone later tweeted that the Republican contender "didn't fire me - I fired Trump", adding that he disagreed with the "diversion" created by the comments about Ms Kelly.
Mr Trump was one of 10 Republican presidential candidates in a TV debate co-hosted by Ms Kelly on Thursday, which was watched by a record 24 million people.
Early on in the debate, Ms Kelly asked him why voters should elect a man who has called women "fat pigs, dogs, slobs and disgusting animals".
Mr Trump joked that he only said that about TV personality Rosie O'Donnell before adding: "I don't have time for total political correctness."
After the debate, he took to Twitter to say Ms Kelly had "really bombed" and that she hadn't been "very good or professional".
Speaking on CNN, he said Ms Kelly was "a lightweight" and that he "couldn't care less about her", before making the comment about blood.
Conservative group RedState said Mr Trump was implying she was hormonal. Mr Trump later denied this in a tweet.
"Re Megyn Kelly quote: 'you could see there was blood coming out of her eyes, blood coming out of her wherever' (NOSE)," he wrote.
A later statement from his campaign said "only a deviant" would think Mr Trump meant anything else.
Analysis: Anthony Zurcher, BBC News, Atlanta
Could this be the moment Donald Trump has finally gone too far?
The prediction has been made many times before, but his disinvitation from the RedState conference here in Atlanta shows that the grass-roots conservative movement may be joining the party establishment in turning against the real estate mogul.
On Friday morning RedState host Erick Erickson took the stage to explain his decision, saying he didn't want his daughter to be in the same room with Trump.
"It's not political correctness," he added, "it's common decency."
Talk in the hallways outside the conference echoed these concerns.
"It's a question whether he really was a Republican in the first place," said Casey Mattox, a lawyer from Washington, DC. "That, on top of the comments he's made that I think were really offensive, make it the right decision not to associate with him."
After his Saturday morning speech, presidential candidate Mike Huckabee defended Megyn Kelly, calling her a "remarkable woman" who shouldn't be tangled with.
There's an old saying that one ought not to pick fights with newspapers because they buy ink by the barrel.
A similar point could be made about challenging much-loved television news hosts who appear on air every day.
In a statement, RedState chief and powerful conservative activist Erick Erickson said "there are even lines blunt talkers [...] should not cross".
"It is unfortunate to have to disinvite him. But I just don't want someone on stage who gets a hostile question from a lady and his first inclination is to imply it was hormonal," he added.
"There is no way to otherwise interpret Mr Trump's comment," he said.
Carly Fiorina, the only female Republican candidate, joined the criticism of Mr Trump, tweeting : "There. Is. No. Excuse" shortly after the CNN interview.
She then tweeted: "I stand with @megynkelly."
Mr Trump's campaign responded to RedState's move by saying it was "another example of weakness through being politically correct".
Mr Trump is ahead of the 16 other Republican candidates in several recent polls despite making several controversial remarks since launching his president campaign.