Megyn Kelly not apologising for debate comments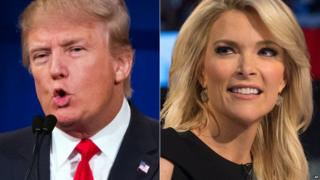 Fox News presenter Megyn Kelly has said she will not apologise for asking Donald Trump tough questions in the TV debate for Republican 2016 hopefuls.
She began her programme on Monday night by saying it's "time to move forward" after days of attacks against her from the hotel tycoon and his followers.
In Thursday's debate, she put Mr Trump on the defensive about remarks he made in the past about women.
The New York businessman is ahead in a crowded Republican field.
After the debate in Cleveland, Mr Trump said Ms Kelly "had blood coming out of her eyes, blood coming out of her wherever".
He denies he was referring to her hormones but the comments got him removed from a conservative event at the weekend.
After refusing to apologise, he instead demanded the popular news anchor say sorry for asking unfair questions.
But Ms Kelly told her viewers she "will not apologise for doing good journalism".
She called her questions during the debate, including one about his name-calling of women, "tough but fair".
"We agree to disagree," she said on her show.
The women 'live-tweeting' their periods
In a round of TV interviews on Tuesday, Mr Trump revealed that Fox News boss Roger Ailes phoned him to defuse the tension.
The former star of The Apprentice also repeated his pledge to consider running as a third-party candidate should he lose the Republican nomination.
Grilled about his policy proposals on CNN's New Day, he argued that having flexibility is better than making specific plans.
"I know exactly what I want to do, I just don't want to announce it yet," Mr Trump said. "I'm just not prepared to tell you right now."