Old Dominion fraternity suspended for sexually suggestive signs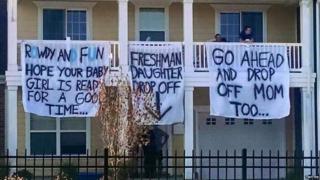 Old Dominion University's Sigma Nu fraternity has been suspended after sexually suggestive signs were hung on the group's off-campus home.
The signs appeared on Friday as new students moved onto the campus in Norfolk, Virginia, for the coming school year.
"Rowdy and fun. Hope your baby girl is ready for a good time," a sign read.
The others read: "Freshman daughter drop off" and "Go ahead and drop off mom too ..."
"Messages like the ones displayed ... by a few students on the balcony of their private residence are not and will not be tolerated," said Ellen Neufeldt, the university's vice president of student engagement and enrolment.
Fraternities are social organisations that college students, usually male, are given the option to join at many universities across the US. Sororities are a similar option for female students.
John R Broderick, the university president, wrote an open letter about the incident to students on Facebook.
"There is zero tolerance on this campus for sexual assault and sexual harassment," he wrote.
Brad Beacham, the executive director of Sigma Nu's national headquarters told NBC News on Monday that "information received by the fraternity today indicates that some chapter members may have had involvement with the banners".
Mr Beachman said the national organization has suspended the local chapter while the university investigates.