Ferguson unrest: Judge withdraws pre-2015 arrest warrants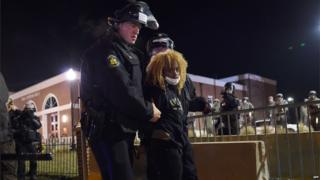 A new judge in Ferguson, Missouri, has halted court practices that were seen as a major factor in unrest over the shooting of unarmed black teenager Michael Brown a year ago.
Judge Donald McCullin cancelled arrest warrants issued before this year, mainly to African Americans.
Defendants of minor offences will also be offered alternatives to prison.
It follows a US justice department report that found the police in the city unfairly targeted black people.
The report, released in March this year, said court officials and the local police were exploiting people to raise revenue.
It highlighted that arrest warrants were being issued if fines for minor offences - such as parking and driving violations - were not paid, instead of arrests on the basis of public safety.
Part of the sweeping changes to court practices announced by municipal Judge McCullin on Monday include offering defendants options to dispose of their cases, such as payment plans and community services.
"These changes should continue the process of restoring confidence in the court... and giving many residents a fresh start," the judge said.
His predecessor, Ronald Brockmeyer, resigned after he was criticised in the US justice department report.
The department launched an investigation into Ferguson's police department and municipal court after Michael Brown, 18, was shot dead by white police officer Darren Wilson in August 2014.
Wilson was not charged over the shooting, an incident that sparked weeks of unrest in Ferguson and protests nationwide.
Michael Brown's death was one of a number of contentious cases in the US in which white officers killed unarmed black men.