Virginia shooting: Profiles of Alison Parker and Adam Ward
Profiles of the two US journalists who were killed by a gunman in Virginia while broadcasting live on air. Alison Parker and Adam Ward had been working together as a team at WDBJ7-TV for almost a year.
You can read live updates of the story here.
---
Alison Parker, 24
Reporter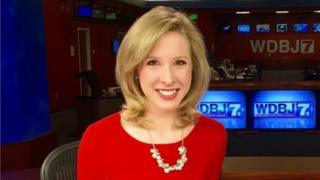 In 2014 she became the reporter for the Mornin' show. Click here to see her being introduced.
A reporter that covered a broad range of topics, she had recently presented a series of reports on child abuse. She also worked on lighter features such as "what is your favourite chicken wing flavour?" - a story she described as "a lot of fun" on Facebook.
She grew up in Martinsville, also in Virginia. According to her WDBJ-TV profile, she attended Patrick Henry Community College and the James Madison University, where she edited the university newspaper, The Breeze. She worked at WDBJ-TV as an intern while studying. When she became a reporter she said it was this internship that had set her on a path to being a journalist.
"It was that internship that took the skills I learned at JMU and allowed me to apply them. That internship made me fall in love with the business, and I knew broadcast journalism was exactly what I wanted to pursue. … I grew up watching WDBJ7," she told the Roanoke Times
In her spare time, Alison liked to white-water kayak, play with her parents' dog Jack, and attend community theatre events, according to the station.
She was dating another station employee, Chris Hurst, who tweeted: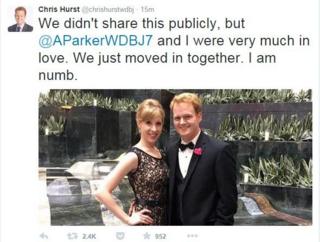 Mr Hurst added: "We were together almost nine months. It was the best nine months of our lives. We wanted to get married. We just celebrated her 24th birthday. She was the most radiant woman I ever met. And for some reason she loved me back. She loved her family, her parents and her brother."
Adam Ward, 27
Cameraman
Adam Ward graduated from Salem High School in Salem, Virginia, and Virginia Tech.
He joined the WDBJ in 2011 and worked his way up to be a field cameraman.
"He proved himself to be just a fine photojournalist, and the kind of guy who [if he] was on his way home from work and heard about something breaking, he would just turn around and go do it," WDBJ's General Manager Jeffrey Marks said as he paid tribute.
Mr Ward was engaged to one of the producers at WDBJ, Melissa Ott. Wednesday was her last shift at the station, and Mr Ward was planning to follow her to a new job in North Carolina. Alison Parker had brought in flowers whilst another anchor brought in a cake. Afterwards, Ms Ott went into the live production gallery whilst Mr Ward joined Ms Parker as they headed out to film a live broadcast.
---