Disney's Love Bug actor Dean Jones dies at 84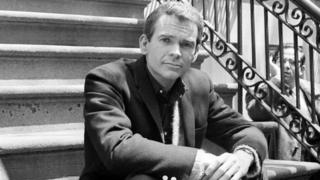 The US actor Dean Jones, best known for his starring role in Disney's The Love Bug, has died at the age of 84.
He died of complications related to Parkinson's disease, in Los Angeles.
He performed as a TV and theatre actor, but his career was defined by Hollywood, appearing in 46 films, including 10 for Disney.
He was one of Disney's major stars of the 1960s and 1970s, appearing in That Darn Cat!, Herbie Goes to Monte Carlo and Beethoven.
The Love Bug, in which he played a struggling racing driver who acquires a Volkswagen named Herbie that shows human traits, was arguably his most successful film.
Jones was proud of the family-friendly entertainment that was his hallmark.
"I see something in them that is pure form. Just entertainment. No preaching," he once told the Los Angeles Times.
"We're always looking for social significance, but maybe people just like to be entertained.
British screenwriter and director Edgar Wright was among those who paid tribute to the star overnight: "RIP Dean Jones. Hoping you ride Herbie into Valhalla," he tweeted.
Originally from Alabama, Jones began his performing career as a singer in a New Orleans nightclub. After university, he spent four years in the Navy, before signing a contract with MGM.
After an unremarkable start to his movie career - including a small, but notable, role in the 1957 Elvis film Jailhouse Rock - he turned to Broadway, making his debut in 1960 opposite Jane Fonda in There Was a Little Girl.
He went on to receive critical acclaim for his role in Under the Yum Yum Tree on stage, which was later adapted for the big screen - also starring Jones.
Screen success followed with That Darn Cat! - with Jones playing an FBI agent opposite Hayley Mills - Any Wednesday (with Fonda again), Monkeys, Go Home! and then, in 1969, The Love Bug.
He made a memorable - if short-lived - return to the stage in the lead role of Robert, in Stephen Sondheim's classic Broadway musical Company. He withdrew from the 1970 production after just two weeks, citing family problems, but remains on the Grammy-winning album.
Both actress Martha Plimpton and Glee star Darren Criss paid tribute on Twitter by posting his performance of the song Being Alive in Company.
"In loving memory of Dean Jones- for those of you unfamiliar treat yourself with this iconic, breathtaking vocal perf, " tweeted Criss.
"The greatest. Rest in peace, Dean Jones," wrote Plimpton.
1977's Herbie Goes to Monte Carlo marked Jones' final foray in the Herbie franchise, though he took smaller roles in the 1997 remake of That Darn Cat! - starring Christina Ricci - and the 1997 TV remake of The Love Bug.
As a Disney favourite, he earned a spot in the Disney Legends Hall of Fame in 1995.
He worked regularly into his 70s, appearing in films including 1992 comedy Beethoven, Other People's Money (1991) and alongside Harrison Ford in Clear and Present Danger. His last film was Mandie and the Secret Tunnel in 2009.
He is survived by his wife of 42 years, Lory, and three children.
---
Did you know Dean Jones? What are your memories of the actor? If you are willing to speak to a BBC journalist about these issues, you can get in touch with us in the following ways: