James Blake, ex-tennis star, mistakenly arrested in New York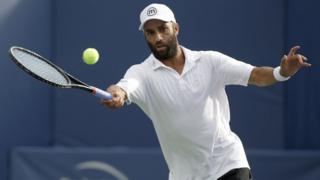 New York City police officers have mistakenly detained a former professional tennis player as he waited for a car to take him to the US Open.
James Blake told the New York Daily News that a group of five plainclothes officers slammed him to the ground and held him for 15 minutes on Wednesday.
The police said in a statement that the officers mistakenly believed he was a suspect in a theft case.
Once it was determined that Mr Blake was not the suspect, he was released.
Mr Blake, 35, said he suffered a cut on his arm and bruises on his legs. He said the officers did not speak to him before they pushed him to the ground.
"You'd think they could say: 'Hey, we want to talk to you. We are looking in to something'," Mr Blake told the Daily News.
"You would think at some point they would get the memo that this isn't OK, but it seems that there's no stopping it."
Once the fourth-ranked player in the world, Mr Blake was set to make an appearance at the US Open for the Time-Warner Cable company.
He retired following his US Open exit in 2013 after winning 10 singles titles in a career in which he also became the number one US player.
Police said a "cooperating witness" mistakenly identified Mr Blake as being involved in "a ring dealing in fraudulently purchased cellphones".
Racial concerns
Mr Blake, who is black, said race may have contributed to the incident. All of the officers were white.
However he said his primary concern was with the amount of force used.
"In my mind there's probably a race factor involved, but no matter what there's no reason for anybody to do that to anybody," he told the Daily News.
The New York Police Department said it was investigating whether the officers used excessive force.
The department has recently been involved in a number of high-profile cases involving accusations of police brutality.
In the most prominent case, a man selling illegal cigarettes died in July 2014 after being subdued by several police officers. Eric Garner's violent arrest was filmed by a bystander.
A decision not to criminally charge the officers led to widespread protests across the city.