Over 700,000 women and girls in prison, says study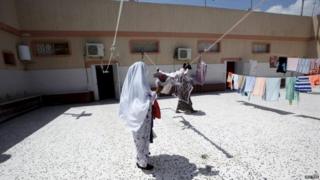 More than 700,000 women and girls are being held in prisons around the world, a report suggests.
The number has risen 50% since 2000, outstripping the growth among men, the study from the London-based Institute for Criminal Policy Research said.
Just three countries - the US, China and Russia - make up around half the total female prison population.
The researchers say their study should be of "profound concern" to governments worldwide,
"(Women and girls) are an extremely vulnerable and disadvantaged group, and tend to be victims of crime and abuse themselves," said Dr Jessica Jacobson, co-director of the institute, which is part of Birkbeck College.
The report is based on data from 219 countries and dependant territories.
The total number for women and girls in jail is likely to be higher, researchers say, as some countries did not supply figures and the Chinese data is incomplete.
African countries have the lowest proportion of women in jail, while El Salvador, Brazil, Cambodia and Indonesia have all seen sharp increases.