Gun control group calls for Oregon sheriff to resign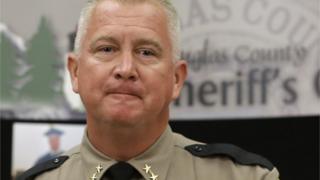 A leading US gun-control group has called for the resignation of the man leading the investigation into the deadly mass shooting in Oregon.
Douglas County Sheriff John Hanlin holds "extremist" views on guns control, the Brady Campaign to Prevent Gun Violence said.
Mr Hanlin has made numerous statements opposing gun regulations.
He wrote in 2013 that he would not enforce new gun laws following the deadly Sandy Hook school shooting.
"In pledging not to enforce the new law, John Hanlin has clearly demonstrated that his political ideology trumps his responsibility to protect his community," said Dan Gross, the group's president, in a news release.
Mr Hanlin said on Friday that his views on gun control are not relevant to the case.
"My focus right now is on getting this investigation completed and taking care of the victims and the victims' families," Mr Hanlin told the Oregonian. "Now is not an appropriate time to have those conversations."
The mass shooting last week at Umpqua Community College in rural Roseburg, Oregon left eight students and a teacher dead and has once again prompted international debate about US gun control laws.
Mr Hanlin wrote in a January 2013 letter to Joe Biden: "Gun control is NOT the answer to preventing heinous crimes like school shootings... I will refuse to participate in, nor tolerate enforcement actions against citizens that are deemed unconstitutional."
The Oregon legislature had voted to expand background checks for gun purchases in a law passed in May - the kind of law Mr Hanlin said he would refuse to enforce.
Mr Hanlin has also questioned the 2012 shooting at Sandy Hook Elementary School in Newtown, Connecticut that killed 26 people, mostly children.
A now-removed Facebook post on his wall included a link to a "Sandy Hook Shooting - Fully Exposed" video, writing above it: "This makes me wonder who we can trust anymore."
The video suggested that both the 11 September attacks on the US and the Sandy Hook shooting may have been part of a government conspiracy to take away people's guns.
On Friday, Mr Hanlin said he now believes that Sandy Hook was not a government conspiracy.