Killed teenager in New York 'wanted to leave church'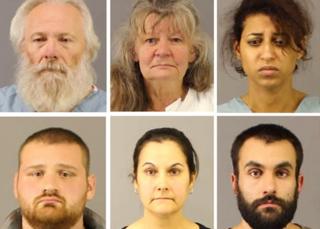 Church members accused of beating to death a 19-year-old have told police they had been discussing his desire to leave the New York congregation.
Lucas Leonard died and his younger brother was seriously injured after both were beaten for hours on Sunday.
New Hartford's police chief said the six church members arrested over the death said the meeting was called to talk about Leonard's plans to leave.
His parents deny manslaughter and four other church members deny assault.
Police have described is as a "spiritual counselling session to urge [the boys] to confess sins and seek forgiveness".
On Friday, New Hartford Police Chief Michael Inserra said the congregants under arrest revealed the victim wanted to leave.
But the police "still have not concluded why the session turned so violent", he added.
Leonard's father Bruce, who founded the secretive Word of Life church in New Hartford, New York, has said it was a family meeting that had nothing to do with the church.
He and his wife Deborah deny inflicting the fatal blows.
Their daughter is among the four other people charged with assault.
Some of the defendants appeared in court on Friday afternoon and the case was postponed until Leonard's brother Christopher is able to testify.