Cancelled California wedding becomes meal for homeless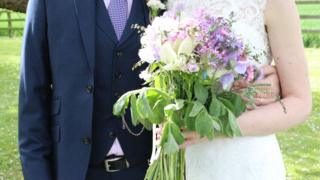 After a wedding in California was called off, the bride's family decided to invite homeless people to the reception meal instead.
The bride's mother, Kari Duane, said her daughter told her on Monday she and her fiance had decided not to go ahead with the event.
Rather than cancel, Ms Duane invited homeless people to the feast at Sacramento's Citizen Hotel.
About 90 turned up to enjoy steak, salad, salmon and other delicacies.
One of those who took up the invitation, Rashad Abdullah, arrived with his wife and five children.
"When you're going through a hard time and a struggle to get out to do something different and with your family, it was really a blessing," Mr Abdullah told local television station KCRA.
The bride's mother said she had mixed feelings about the day.
"Even though my husband and I were feeling very sad for our daughter, it was heart-warming to see so many people be there and enjoy a meal,'' Ms Duane said.
Part of the $35,000 (£22,631) non-refundable cost of the wedding was a trip to Belize. Ms Duane and her daughter left for Belize on Sunday.