Tim Wolfe: US university chief quits in race row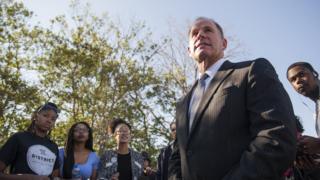 The president of the University of Missouri has resigned amid accusations that there is endemic racism at the university that is not being addressed.
Tim Wolfe made the announcement as students and professors staged a walkout at the Columbia campus.
Some members of the university's football team have threatened not to play at a game on Saturday over the racial issues.
Black student groups say racial slurs are commonly used around campus.
"The frustration and anger that I see is clear and real and I don't doubt it for a second," said Mr Wolfe.
"I take full responsibility for the frustration and inaction on this campus."
Missouri graduate student Jonathan Butler, who had been participating in a hunger strike as a protest, said the resignation was a "great step towards change" but there was still a lot of work to do.
"We still have a lot of healing that needs to happen on campus," he said, adding that his hunger strike would now end.
Mr Wolfe served as president of the entire university system and not specifically for the flagship Columbia campus.
The chancellor of the Columbia campus, R Bowen Loftin, announced on Monday he would be stepping down by the end of the year as well.
Among the offences black students have complained about:
a swastika drawn in faeces was found in a dormitory bathroom
being subjected to racial slurs by passerby in cars and on campus
one student told the Los Angeles times she and other girls were kicked out of a fraternity party for being black
another student said a professor told her she was only at the university because of affirmative action requirements
not receiving any university support after the fatal police shooting of Michael Brown in Ferguson, Missouri
no response from Mr Wolfe after black students stopped his car at a homecoming parade
being treated differently to white students on campus
Concerned Student 1950, the student group that has been having a sit-in on campus since last Monday, tweeted that his resignation was a victory but its work was not done.
"Our brother can eat, but we are still owed Demands! Stay strong!" the group tweeted.
---
Reaction on social media
Rather than jubilation, the main sentiment was disappointment and frustration - at least if you looked at Yik Yak.
"I need to transfer," said one user.
"I guess we will now see if the protesters are happy or not," said another. "I wonder how long it will be until there's another big protest."
Another said sarcastically: "Thank god Tim Wolfe resigned! Racism is no longer a thing."
Anonymous support for university chief in racism row
---