Obama says US governors' refusal of refugees 'hysterical'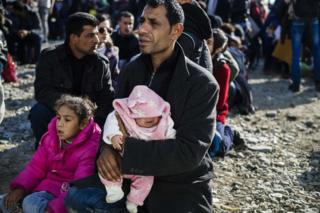 President Barack Obama has described as hysterical the actions of two dozen state governors who are refusing to resettle Syrian refugees.
He said some Republican rhetoric on the issue was a "potent recruitment tool" for Islamic State militants.
The governors, mostly Republican, have pressed for bans in their states since it emerged one of the Paris attackers may have entered Europe with migrants.
US State Department lawyers say states cannot lawfully stop refugees.
But a bill has been introduced in Congress that would restrict Syrian arrivals nationwide.
The Obama administration announced in September that it wanted to resettle about 10,000 Syrian refugees in the US by the same time next year.
The White House held a 90-minute phone call with 34 governors on Tuesday night to explain how Syrian refugees are screened and prioritised for entry.
---
The vetting process
takes two years
in-person interviews and supporting documents
their experience of conflict cross-checked against intelligence
about 50% of applicants approved
Step-by-step: how a Syrian refugee gets to the US
---
Presidential candidates such as Ted Cruz and Jeb Bush have said the US should only admit Christian Syrians.
Speaking while on a trip in the Philippines, Mr Obama said that this kind of rhetoric played into the hands of Islamic State and said "it needs to stop".
"Apparently they're scared of widows and orphans coming into the United States of America."
The US does not make good decisions "based on hysteria or an exaggeration of risks", he added.
In Washington, Rep Michael McCaul, chairman of the House Homeland Security Committee, has introduced a bill that would place new restrictions on the entry of Iraqi and Syrian refugees to the US.
He said that the bill would require the country's top security officials to sign off on each refugee admitted to the US.
A vote could come as early as Thursday.
The White House said it would veto the bill if it was passed by Congress.
The administration said the bill "is untenable and would provide no meaningful additional security for the American people."
The co-ordinated bomb and gun attacks at a number of sites in Paris on Friday night killed 129 people.
Seven of the perpetrators died in the attacks, and one of them is thought to have been a Syrian who entered Europe via Greece with migrants.
Millions of Syrians have fled to neighbouring countries and to Europe.