Turkish plane diverted to Canada over bomb threat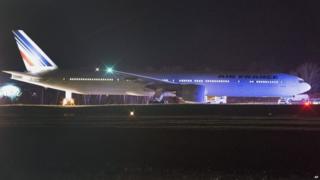 A Turkish Airlines flight from New York was diverted to eastern Canada after a bomb threat, but no device was found.
The Turkey-bound flight carrying 256 people landed at Halifax International Airport following an alert received at 22:50 local time (02:50 GMT Sunday).
Canadian police said the aircraft was searched but no device was located. The flight is due to continue to Istanbul.
The incident comes amid heightened tensions a week after attacks in Paris that killed 130 people.
Last Tuesday, two Air France flights from the US to Paris were diverted because of bombs threats.
The Turkish Airlines flight had already taken off from John F Kennedy airport by the time the bomb threat was received, and it landed in Halifax at 12:53 local.
Passengers and crew were transferred to the airport terminal, while the aircraft and the luggage on board were searched.
Police said the investigation into the threat was ongoing.