Trump postpones Israel trip 'until after he is elected'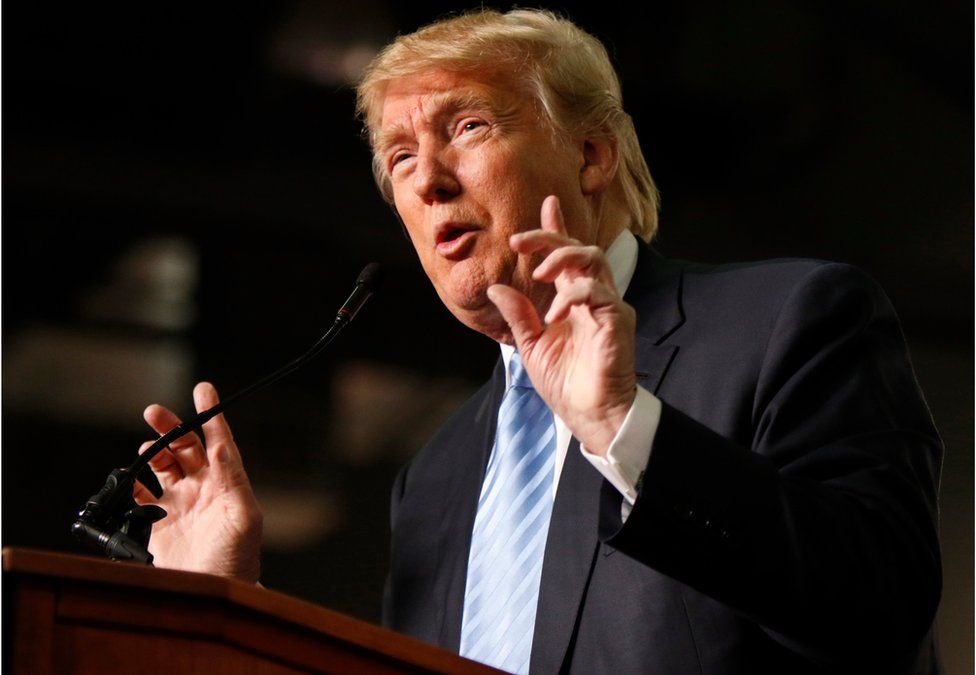 Leading Republican presidential candidate Donald Trump has said he is postponing a planned trip to Israel.
The business mogul tweeted that the trip would take place "at a later date after I become President of the US".
Earlier this week, Mr Trump proposed a temporary halt on Muslims entering the United States.
His proposal was met with criticism from around the world, including from Israeli Prime Minister Benjamin Netanyahu.
Mr Trump's proposed Muslim ban made the trip politically awkward for the Israeli leader.
"[Mr Netanyahu] said we have a meeting and he looks forward to the meeting and all of that. But I didn't want to put him under pressure," Mr Trump told Fox News on Thursday.
His proposed ban came days after a deadly attack in San Bernardino, California by a radicalised Muslim couple.
Swift criticism followed the leading candidate's remarks. Muslim leaders, the UN and foreign leaders criticised the call as dangerous and divisive, while the White House said Mr Trump should be disqualified from serving as president.
Israeli President Reuven Rivlin implicitly rebuked the leading Republican candidate saying "we have no war with Islam".
"We have war against those who are using ideas in order to create extremism and threats toward the whole innocent people of the world," Mr Rivlin said.
Back in the US, boxing legend Muhammad Ali, who is Muslim, issued a statement calling on political leaders to "use their position to bring understanding about the religion of Islam" and for Muslims "to stand up to those who use Islam to advance their own personal agenda". He did not, however, mention Mr Trump by name.
Trump's anti-Muslim ban - in depth
Ban petition - Over 400,000 call on UK government to bar Mr Trump
Earlier this week, reports suggested that Mr Trump would visit Jordan in addition to Israel. Mr Trump denied these reports on Twitter.
Meanwhile, more than 418,000 people in the UK signed a petition, calling for Mr Trump to be barred from entering country. The numbers of signatures means MPs will have to consider it.
Chancellor George Osborne criticised Mr Trump's comments, but he rejected calls for him to be banned from the UK.
Home Secretary Theresa May can exclude an individual if she considers their presence is "not conducive to the public good or if their exclusion is justified on public policy grounds".
In response, Mr Trump took to Twitter on Thursday morning saying "the United Kingdom is trying hard to disguise their massive Muslim problem," and "many people in the UK agree with me".