Republican debate: Tweeters mock Trump's internet call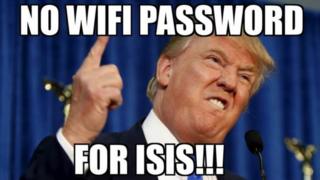 As the candidates in Tuesday's Republican debate grappled over how to tackle the growing threat of the Islamic State group (also known as Isis), Donald Trump calmly reassured them "the answer is simple".
Rather than focus on a bombing campaign in Syria, or sending in ground troops, the billionaire offered a more novel, technological strategy: to "close off areas of the internet".
"Isis is using the internet better than we are using the internet, and it was our idea," the 69-year-old entrepreneur told the audience in Las Vegas.
"We should be able to penetrate the internet and find out exactly where Isis is and everything about Isis. "We can do that if we use our good people."
And indeed, the good people of the internet were quick to offer their help:
Trump was praised for his bold language...
The business magnate had previously made vague references to "closing up the internet".
So when asked at the debate exactly how he would achieve this, he told the audience "This is so easy to answer... We should be using our most brilliant minds".
Well who could that be?
CNN host Wolf Blitzer then pressed Trump on which "parts" he intended to close.
"I would certainly be open to closing [the internet] in areas where we are at war with somebody," Trump replied, adding that he did not want terrorists using "our internet."
Sorry, whose internet?
So how might the Republican frontrunner implement his scheme? Twitter users were quick to offer suggestions.
Or how about deploying another much Trump-eted idea... a giant wall paid for by Mexico?
In a final twist, opposition wags were delighted to point out that it was not a Republican but rather a famous Democrat, Al Gore, who claimed to have laid the foundations for "our" internet.
But it did not help him win the presidency though, did it?