California braces for two weeks of El Nino storms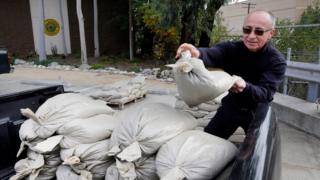 Communities across California are bracing for two weeks of heavy rains generated by the El Nino system.
Northern California could receive up to 15in (38.1cm) of rain over the next 16 days, with parts of the Sierra Nevada mountains getting up to 24in of snow.
The El Nino system, a warming trend in the Pacific Ocean, is expected to spur extraordinary weather across the US in the coming weeks and months.
The phenomenon is prompting warnings of flash floods and mud flows.
Light rain began falling across the region on Monday, but stronger storms are expected to hit the area on Tuesday, with at least two more systems expected on Wednesday and Thursday.
Much of the area in the storms path has fallen victim to wildfires in recent years, making the heavy rains more hazardous. After wildfires destroy vegetation, there is an increased risk of landslides and mudslides along sloped areas.
The concerns are shared in southern California, where wet conditions could put communities in the Los Angeles area at risk of flooding and susceptible to debris and mud flows. Between two and three-and-a-half inches of rain are expected through Friday in southern California.
Across the state, officials are issuing warnings for the storms and telling residents to clear gutters and anything that could hinder the flow of storm drains. Efforts are under way to shelter homeless people.
El Nino systems form every two to seven years when the warm waters of the central Pacific ocean expand towards South and North America. The current El Nino is the strongest since 1998 and is expected to be in the top three most powerful episodes ever recorded.
In recent weeks, the system has generated unusual weather across the US with unseasonably high temperatures in the northeast, uncommon winter tornados in the south, and a deluge of snow across the west.
The El Nino system has also generated intense flooding across South America, with Paraguay, Argentina, Uruguay and Brazil experiencing the worst flooding in 50 years, resulting the evacuation of more than 150,000 people.
In many ways the soggy deluge may bring some welcome relief.
California has been struggling with a four-year drought that has forced officials to enact a contentious water-savings plan. Residents have missed savings targets for at least two months in a row.
However, despite the forecast for heavy downpours, experts say the severity of the drought is such that one El Nino system will not be able to overcome it.