Trump retweets quote attributed to fascist leader Mussolini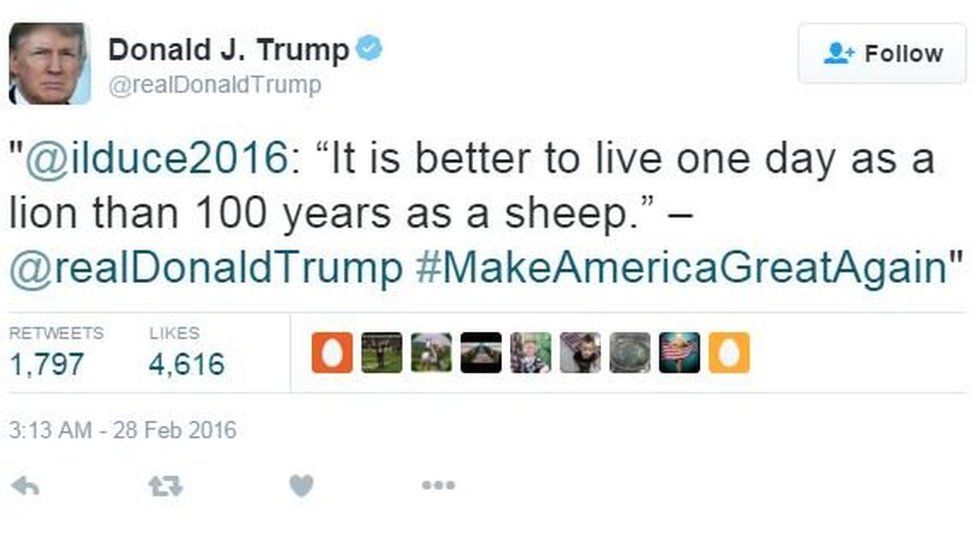 Republican presidential hopeful Donald Trump has retweeted a quote widely attributed to Italian Fascist leader Benito Mussolini.
The tweet, created by a parody account and including Mr Trump's handle, read: "It is better to live one day as a lion than 100 years as a sheep."
The account is named @ilduce2016 after Mussolini's Italian title, the Leader.
Asked about the tweet in a TV interview, Mr Trump said he wanted "to be associated with interesting quotes".
"Mussolini was Mussolini... What difference does it make?" Mr Trump said when asked about the retweet on NBC's Meet The Press programme. "It got your attention, didn't it?"
Mussolini led Italy from 1922 until 1943, and led the country into war with the US in 1941.
The Gawker website said it had created "a Twitter bot that would post quotes from the writings and speeches of... Mussolini" at Mr Trump until he eventually retweeted one.
Correspondents say this is the latest example of behaviour which would have damaged any other candidate but which seems not to dent Mr Trump's status as frontrunner for the Republican party nomination for the US presidential election later this year.
His campaign has seen a number of surprising moments, including one of his previous rivals for the candidacy, New Jersey Governor Chris Christie, endorsing him on Friday.
On Sunday Meg Whitman, CEO of Hewlett Packard and former finance co-chair of Mr Christie's campaign, called Mr Christie's endorsement "an astonishing display of political opportunism".
"Trump would take America on a dangerous journey. Christie knows all that and indicated as much many times publicly," Ms Whitman said.
Also on Sunday, Mr Trump appeared reluctant in a CNN interview to distance himself from an endorsement from David Duke, a former senior leader of the white supremacist group Ku Klux Klan. He told the interviewer he "didn't know anything about David Duke".
Later, however, he tweeted a video from an earlier press conference in which he appeared to recognise Duke's name immediately and said: "David Duke endorsed me? OK, I disavow."
An NBC poll put Mr Trump ahead in contests in Georgia and Tennessee due on 1 March as part of "Super Tuesday", when 11 states will go to the polls to choose candidates.
His rival Ted Cruz was ahead in his home state of Texas, while Democratic hopeful Hillary Clinton had leads in all three states over Vermont senator Bernie Sanders.
Trump's rules for Twitter
1. Don't bother with politeness... :
Some call it childish, but his supporters seem to relish Mr Trump's invective as part of his anti-politics style. The New York Times has a handy compilation of the people, places and things Mr Trump has insulted. To date, the count is 199.
You may have noticed that's not how "dumber" is spelt in the above tweet, but Trump is not one to let spelling get in the way of his flow:
3. Retweet white supremacists
Last month Mr Trump manually retweeted an account entitled WhiteGenocideTM, which contains racist and anti-Semitic material (this was in the cause of insulting Jeb Bush, thus also adhering to rule number 1). Several other accounts that he has retweeted have reportedly been found to have white supremacist links.
4. Don't worry about consistency
As noted above (see rule 1 again), Mr Trump does not shy away from abrasive language - but that doesn't stop him expressing the odd bit of outrage at the coarsening of public debate, in this case the former Mexican President Vicente Fox talking about Mr Trump's plans for a wall between the US and Mexico: