Obama to stay in Washington DC after leaving White House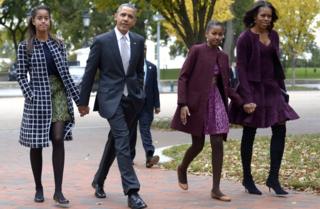 US President Barack Obama will be moving out of the White House in 2017, but he will not be moving far.
Mr Obama said on Thursday the family would stay in Washington while his 14-year-old daughter, Sasha, finishes her education at the elite academy, Sidwell Friends.
"Transferring someone in the middle of high school. Tough," he said to an audience question in Wisconsin.
It is not common for presidents to stay in the capital after they leave office.
Woodrow Wilson, who served as president from 1913 to 1921, was the last.
However, the Obama family also plans to spend time in Chicago, where the family has a home and First Lady Michelle Obama has family.
Mr Obama is also establishing his presidential library in Chicago.