Canada's New Democratic Party ousts Thomas Mulcair as leader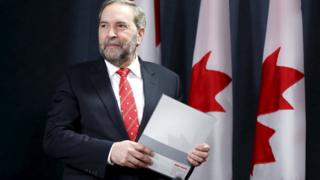 New Democratic Party members in Canada are looking for a new leader after a surprise ousting of Thomas Mulcair.
Tasked with figuring out where to go next after a major loss in last year's election, 52% of the party voted for a leadership race.
Many expected Mr Mulcair to at least obtain the 50% needed legally to stay on, if not the 70% generally required to continue.
He will stay on until the party picks a replacement in 2017 or 2018.
"There's a lot of hope and optimism in our party," Mr Mulcair said after the vote at the NDP convention at the weekend in Edmonton. "The disappointment from the election obviously is something we're now going to be able to leave behind us with a change at the helm. And that's fine."
Some said Mr Mulcair pushed the NDP too far centre and the party lost its left-wing core during the election, making it lose its values, and the Liberals, sweeping the election with Justin Trudeau at the helm, outdid the NDP.
Before the vote, he tweeted: "If you keep standing with me, then together, we will never stop fighting".
Party delegates will start thinking about a leadership contest immediately, NDP National Director Karl Belanger said in a statement.
"This convention has shown that New Democrats are dynamic, energized and strongly invested in renewing the party," Mr Belanger wrote. "The next chapter begins today. New Democrats will now move forward, united, together."
British Columbia MPs Nathan Cullen and Peter Julian, former Halifax MP Megan Leslie, Quebec MP Alexandre Boulerice, Ontario MP Charlie Angus and Manitoba MP Niki Ashton are all names being floated as possible leadership candidates, according to the Globe and Mail.
"Everything did not go the way I thought... I guess those were the two issues that showed division in the party," NDP member John Gerassimou, from LaSalle, Ontario, told the BBC. But he remains hopeful. "Two key themes that came out: we are the doers and we never give up. I feel so blessed and hopeful for my party."
Michael Taube, a columnist and past speechwriter for former conservative Prime Minister Stephen Harper, told the BBC that he was surprised, and so were many Canadian pundits.
Before to the convention, he said it would be "astonishing" if someone with as much political experience as Mr Mulcair were to be ousted, and that the NDP's bench for who might replace him is not very deep.
"You could tell [Mulcair] was shell-shocked at the result, but he handled himself in a dignified manner," Mr Taube said.
NDP member Brian Appel of Surrey, British Columbia said that as the weekend went on, it became clear that the "anti-Mulcair sentiment was a lot larger than expected" and that he disagrees strongly with the party's decision.
Alberta Premier Rachel Notley and former NDP leader Stephen Lewis both delivering "enthralling" speeches at the convention, said Mr Appel, and Mr Mulcair's speech did not compare.