Charles Manson: Messianic leader of a death cult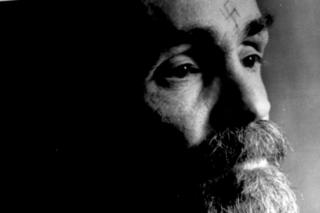 Charles Manson's messianic influence inspired his followers to commit murder.
Members of his so-called Family were responsible for a series of high-profile killings that shattered the peace and love of the Californian summer of 1969.
Over a period of five weeks, nine people, including the actress Sharon Tate, died in barbaric circumstances.
Despite not committing any of the murders himself, Manson narrowly escaped the death penalty and spent the rest of his life in jail.
Charles Manson dies after decades in jail
The terrible charisma of Charles Manson
He was born Charles Milles Maddox in Cincinnati, Ohio, on 12 November 1934, the illegitimate son of 16-year-old Kathleen Maddox. Shortly after his birth, his mother married William Manson and her son took his stepfather's name.
He endured a miserable childhood. His mother was an alcoholic and when, in 1939, she was jailed after robbing a petrol station, Manson was placed in the care of his aunt and uncle.
When his mother was paroled in 1942 she lived with her eight-year-old son in a series of dilapidated rooms before unsuccessfully applying to a court to have him fostered. Instead he was placed in a Catholic boys' home from which he ran away after just 10 months.
Manson's robbery of an off-licence marked the beginning of a series of crimes, including armed robbery, and subsequent incarcerations in a number of institutions.
By the time he was 17 he had a string of convictions, with one prison case worker reporting that he was "aggressively antisocial". After rebelling against the prison authorities, he was classified as dangerous.
However, by 1954, after a period of good behaviour, he was allowed parole. He moved to West Virginia to be with his mother and, in 1955, married Rosalie Jean Willis, who worked as a waitress in a hospital.
This brief settled period came to an end when he was sentenced to five years' probation for car theft, which was changed to three years in prison after he failed to appear in court to answer another charge. His wife went off with another man and the couple divorced.
Beliefs and teachings
Manson took up with a prostitute named Leona "Candy" Stevens, whose tearful plea to a court that she and Manson would marry if he stayed out of jail saw the judge suspend a 10-year jail sentence on Manson for passing a stolen Treasury cheque. However, in 1960 he again broke probation and was ordered to serve his suspended sentence.
In 1967 he was released from prison despite pleading with the authorities to let him stay. Having spent half his life in institutions, he did not feel capable of facing the world outside.
He moved to San Francisco where he met a library assistant called Mary Bunning, eventually persuading her to allow other women to move in with them. According to one account, there were at least 18 women resident in the apartment in the first incarnation of what would be dubbed the Manson Family.
Fuelled by considerable quantities of drugs, notably LSD, Manson set himself up as something of a guru, peddling a mixture of beliefs and the teachings of numerous cults. He convinced a series of adoring female followers that he was in fact Christ.
Before the end of 1967, Manson and some of his followers set off to tour the country in an old bus, covered in hippie regalia.
In a bizarre interlude, the Family moved into a plush house owned by the Beach Boys drummer, Dennis Wilson, where the musician found himself subsidising Manson's growing entourage. He introduced Manson to a number of friends working in music and show business.
Race war
After being evicted by Wilson's manager, the Family relocated to a rundown ranch where Manson became obsessed by the track Helter Skelter on the Beatles' White Album, released in November 1968.
Lennon and McCartney's innocent lyrics about a children's playground slide were interpreted by Manson as signifying the beginning of a race war between black and white. In Manson's fevered mind, black people would emerge victorious but would have to rely on the guidance of the Family to help them to build a new social order.
The first killing took place on 25 July 1969, when Manson sent three members to the house of an acquaintance, Gary Hinman, who, Manson believed, had a stash of money. After being held hostage for two days, Hinman was stabbed to death by a Family member, Bobby Beausoleil.
On 8 August, Manson sent four members of the Family to the rented house of record producer Terry Melcher, with instructions to kill everyone they found. Melcher had previously turned down Manson's request for a recording contract.
However, Melcher had moved, and the house had been rented to the film director Roman Polanski and his actress wife Sharon Tate. The gang first shot an 18-year-old youth they encountered outside the house before bursting in and killing the four occupants, hairstylist Jay Sebring, Polanski's friend and aspiring screenwriter Wojciech Frykowski and Frykowski's girlfriend Abigail Folger. Polanski himself was in London on business.
Tate, who was eight and a half months pregnant, died from stab wounds and her blood was used to write the word "pig" on the outside of the house.
The following night Manson, who had not attended the previous killings, went with six members of the Family to the house of a supermarket executive, Leno LaBianca, and his wife Rosemary. The couple were stabbed to death although, after tying them up, Manson left the house before the attacks began.
The final victim was Donald Shea. Manson instructed Steve Grogan, a member of the Family, to kill the former film stuntman, who he believed had passed information to the police. Shea's remains were not found until 1977, when Grogan led police to where he had buried him eight years previously.
The police initially ruled out any connection between the Tate and LaBianca killings. The breakthrough only came when Manson and some Family members were arrested after allegations they had vandalised part of the Death Valley National Park by burning stolen vehicles.
Rambling
While being held in custody, Family member Susan Atkins confided her involvement in the murders to two other prisoners who informed the authorities.
The trial was marked by a series of disruptions by Family members and a rambling speech in his own defence by Manson. Manson and the three other defendants from the Family were sentenced to death. An appeal process delayed the executions and the sentences were commuted to life imprisonment when California abolished the death penalty in 1972.
The publicity surrounding Charles Manson and his Family failed to go away. In 1975, one of his followers, Lynette "Squeaky" Fromme, was jailed for life after attempting to assassinate President Ford.
Manson himself remained in the public eye. He gave four TV interviews from prison in the 1980s, most notably with Dan Snyder from NBC News and Charlie Rose for CBS, the latter interview winning an Emmy award.
By the turn of the century, Manson and his followers had become something of a cult, with websites dedicated to him by people not even born when the Family committed murder.
One of these admirers was Afton Elaine "Star" Burton, who had begun corresponding with Manson in 2007 when she was just 17. She later announced that she and Manson had become engaged. A marriage licence was issued but it expired without any wedding taking place.
The singer Marilyn Manson took his surname, while the British band Kasabian are named after Linda Kasabian, the Family member who escaped prosecution by giving evidence against her former associates.
Vincent Bugliosi, the prosecutor at his trial, and the author of Helter Skelter, an account of the case, summed it up thus. "The very name Manson has become a metaphor for evil, and evil has its allure."
Manson made 12 applications for parole, all of which were refused. Neither the court hearings, nor a positive avalanche of subsequent writings, have given any definitive explanation for Manson's motivation or, perhaps more puzzling, the motivation of those who decided to follow him and commit murder on his behalf.