Police horse joy-ride suspect held in Connecticut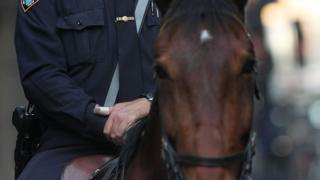 A man in the US state of Connecticut has been charged after allegedly taking a police horse for a drunken joy ride.
The 41-year-old man returned at night to the stables where he works and took one of the horses for a ride around the city of Hartford.
Police told the Hartford Courant newspaper they received a number of calls about a man in a cowboy hat riding a horse and holding up traffic.
A Hartford sergeant confirmed to the BBC a police horse had been stolen.
The horse, named by the Hartford Courant as Handsome, was not injured and was in good spirits, the sergeant said.
Police arrested the man after tracing him to the stables, where they found him in an intoxicated state, leading Hanson around. The horse was reportedly still wearing a saddle.
The man has been charged with disorderly conduct, riding an animal on a road and failing to have lights while riding an animal.