Alberta wildfire: Emergency declared in Fort McMurray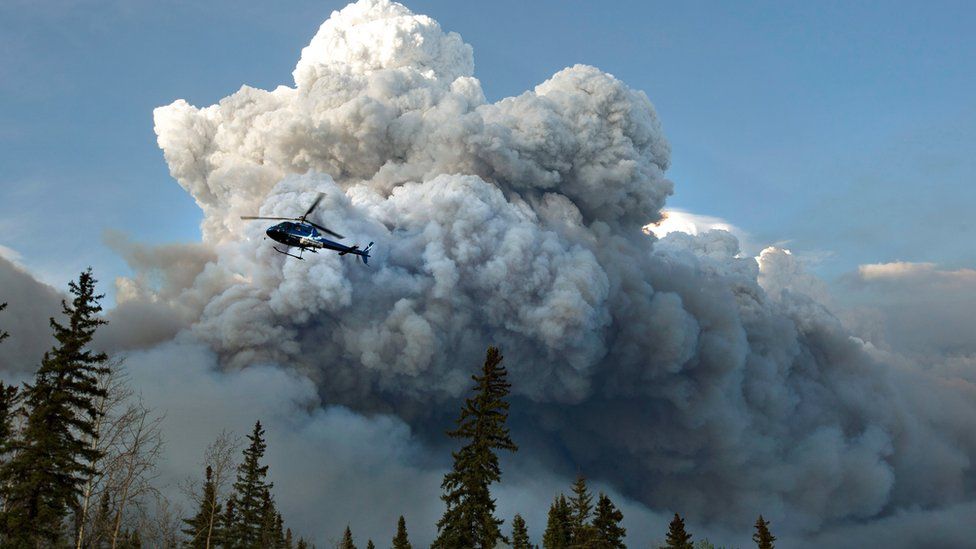 A state of emergency has been declared in the province of Alberta in Canada after a wildfire forced all 88,000 residents of Fort McMurray to flee.
Officials say the fast-moving blaze could destroy much of the city.
The fire, which broke out on Sunday in the heart on the country's oil sands region, has gutted 1,600 buildings, including a new school.
The evacuation was the largest-ever in Alberta. Oil companies operating in the area have been forced to cut output.
Several firms have shut down some pipelines. This was done to help evacuate non-essential personnel, reports say, but oil facilities are not in the current path of the fire.
So far there have been no reports of deaths or injuries, but two women gave birth in one evacuation centre, Reuters news agency reported.
Resident Neil Scott told the BBC: "It was something you'd see in a movie probably. I was stuck between a concrete barrier and the fire and I thought 'You know what? I might not make it out'.
"There's whole neighbourhoods that are gone. A hotel burned down, a gas station exploded. One lady that I met she actually was sheltered behind like an electrical box when it actually exploded and she felt a shockwave."
"You could hear the pop, pop, pop because of the propane tanks," Doug Sulliman, a former professional ice hockey player, told Associated Press. "The fire was just consuming these houses. It just destroyed the whole community."
At the scene: James Cook, BBC News
The night sky above Fort McMurray is illuminated by a fierce orange glow as fires continue to burn to the north and to the south.
Above the flat landscape of Alberta's famous oil sands is a towering plume of smoke; a giant pyrocumulus cloud so big that it resembles ash from an erupting volcano and has even generated its own lightning.
As we drove north towards the city, hundreds of residents passed us, fleeing to the south, many towing trailers containing as many belongings as they could pack.
We also passed a fleet of yellow school buses, bound for the town of Anzac and its neighbouring communities, on a mission to rescue the latest people to be threatened by the fast-moving flames.
Fort McMurray itself is sealed off to all but the emergency services, but it is reportedly a scene of devastation.
One police officer who lives and patrols in the city told the BBC that, in his assessment, around half of it had been destroyed.
The El Nino weather system has led to drier than normal conditions in Alberta and neighbouring Saskatchewan. Unseasonably high temperatures and strong winds have combined with those conditions to leave much of those provinces under an extreme fire risk warning.
Prime Minister Justin Trudeau said people should not conclude climate change was to blame.
"It's well known that one of the consequences of climate change will be a greater prevalence of extreme weather events around the planet," he said.
"However, any time we try to make a political argument out of one particular disaster…that can sometimes not have the desired outcome."
How authorities have reacted
Bernie Schmitte, an official at Alberta's agriculture ministry, said on Wednesday that the "catastrophic fire" had so far "resisted all suppression methods".
Alberta Premier Rachel Notley said the blaze had moved north and east across Fort McMurray. The state of emergency would allow Alberta to apply for federal funds to help the recovery, she said.
First Nation communities 50km (30 miles) south of the city were given mandatory evacuation orders on Wednesday.
Officials said the size of the blaze was now more than 10,000 hectares (39 square miles) and it was being tackled by 100 firefighters.
Ms Notley praised Albertans for helping neighbours in need.
"We will get through this and we will come out stronger on the other side," she said.
The weather is expected to cool across Fort McMurray from Thursday.
But, if the winds behave as predicted, Ms Notley said, the blaze could move into the Thickwood and Timberlea communities, as well as the area around the airport.
"Bad news does not get better with time," said Scott Long, executive director of Alberta's Emergency Management Agency.
"It is a possibility that we may lose a large portion of the town," he added. So far, he said, downtown Fort McMurray had been spared by the "herculean" work of firefighters.
Fort McMurray: Canada's 'manliest' city
On its tourism website, Fort McMurray describes itself as the "gateway to the north" - a region which is home to the third largest reserves of oil in the world behind Saudi Arabia and Venezuela.
It may be remote, but Fort McMurray's proximity to Canada's rich oil sands has helped it to become a hugely prosperous place, drawing oil workers from across the world.
It is not strictly speaking a city, but such has become Fort McMurray's importance in the region that it is commonly referred to as one.
Canada's National Post called Fort McMurray "Canada's manliest city" where men outnumber women by roughly three to two.