A Trump presidency has Americans looking north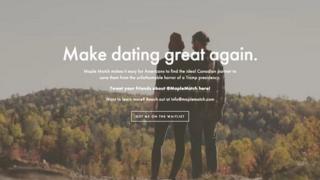 Every four years, terrified by a potential president, many Americans roll out a well-worn pronouncement: "I'm moving to Canada!"
However, this year they have helped to make that often empty threat a reality.
The 2016 election campaign has been full of surprises, the biggest is Donald Trump. His divisive campaign has turned some American voters off. But he's on track to become the Republican nominee after receiving more support than his contenders. His lack of political experience is refreshing for his supporters who believe his business background shows he can get things done.
Before entering the race he was best known for being the host of US reality TV show The Apprentice. During his campaign he's made controversial remarks including proposing a ban on Muslims entering the country, building a wall between Mexico and the US, and accusing Mexicans of being rapists.
A website called MapleMatch.com is promising to save Americans from "the unfathomable horror of a Trump presidency" and its slogan takes inspiration from the campaign: "Making dating great again."
Google searches for "how can I move to Canada" spiked after Mr Trump won seven out of 11 primaries during "Super Tuesday", according to the search engine's data editor Simon Rogers.
The American founder of MapleMatch Joe Goldman saw an opportunity to connect those wanting to leave the US with Canadians through dating. He says the website is more than just about trying to escape Donald Trump and is a real chance for Americans and Canadians to find love across a border. The unexpected demand means there is work to be done on how to match people when it launches.
Canadian love
Aubrey Knotts said escaping a Trump presidency was "a big reason" why she signed up but not the only reason. "I also just really love the country, I went on a trip to Toronto during my senior year of high school and fell in love."
She said it was a silly thing to sign up for but though it was worth a shot and she was seriously considering moving but as a student she'd have to think about whether she had the money to move.
But not everyone is taking it as seriously. Edie Harris from Chicago said she signed up as a joke and didn't think she'd leave the US. She said: "I can't see myself taking an escape route from something I could feasibly help change again four to eight years down the road, in another election cycle."
The idea to lure dissatisfied Americans to Canada is not new. Rob Calabrese, a radio DJ set up a website to attract them to the Canadian island of Cape Breton. The website was visited by "over one million people" and Mr Calabrese said he was "honoured" to have brought so much attention to the island. The offer wasn't just for those fleeing the possibility of President Trump. "We welcome all, no matter who you support, be it Democrat, Republican or Donald Trump."
A Canadian technology start-up company called Sortable advertised job opportunities on Facebook targeting Americans looking to live abroad.
The founder, Chris Reid, told Vox: "Just the whole thing seems bizarre. And that's why we thought, 'Oh, we should do some bizarre recruiting around it'" — placing Facebook ads encouraging American engineers to come work at Sortable and escape the Trump." Despite the ploy they hadn't hired any Americans because of the campaign, but had plenty of interest.
Mr Goldman said it's "exciting to be able to be a conduit" for people finding love and has always been interested in Canada. It's not surprising then, that as a single American dreading the idea of President Trump he's also signed up - although he adds there'll be no preferential treatment for him.
While the service aims to help Americans escape a possible Donald Trump presidency, for Canadians Mr Goldman says it could widen their dating pool and "meet people they wouldn't usually meet". The service hasn't gone live yet but there are already around 10,000 people signed up, and the site has seen so much traffic they've struggled to keep up.
Finding a Canadian to date isn't the only option for Americans who are seriously considering emigrating. Moving temporarily for work is quite easy under current agreements between the two countries. Although if choosing to stay permanently the special treatment for US citizens ends and they are treated the same by Canada's points-style system as someone from Norway or Yemen.
---
Celebrities planning to move
Lena Dunham, creator of HBO show Girls: "I know a lot of people have been threatening to do this, but I really will... I know a lovely place in Vancouver and I can get my work done from there."
Raven-Symoné, co-host of ABC's The View: "I'm gonna move to Canada with my entire family... I already have my ticket … No, I literally bought my ticket, I swear."
Cher, singer: "IF HE WERE TO BE ELECTED, IM MOVING TO JUPITER"
Jon Stewart, former Daily Show host - "I would consider getting in a rocket and going to another planet... because clearly this planet's gone bonkers."
Whoopi Goldberg, actress: "Maybe it's time for me to move, you know... I can afford to go"
Miley Cyrus, singer: "I am moving if this is my president! I don't say things I don't mean!"
---
There are also threats from the other side of political spectrum. A pro-Bernie Sanders Facebook group called "If Hillary Clinton becomes President, I'm moving to Costa Rica" is encouraging people to join to show the Democratic National Committee "we will not settle for Hillary". Although it hasn't gained many followers and is using the threat as a way to get their voice heard, rather than seriously leaving the US.
In March a Global News Ipsos poll suggested that 19% of Americans would head to Canada if Mr Trump won and it also found that 15% would leave if Mrs Clinton became president. But similar sentiments in previous elections haven't materialised. The number of US citizens permanently moving to Canada has been relatively stable around 9,000 since 2005. There was a slight peak in 2008 - the year President Barack Obama was elected - although the reasons why people left America is unknown.
President Obama isn't fazed: "Every time we have a presidential election, our friends to the north have to brace for an exodus of Americans who swear they'll move to Canada if the guy from the other party wins. But, typically, it turns out fine."
"I am absolutely certain that, in 2012, when there was the possibility that I might be re-elected there were folks who were threatening to go to Canada, as well. And one of the great things about a relationship like Canada's and the United States' is it transcends party and it's bipartisan in terms of the interest that we share."
The Canadian Prime Minister Justin Trudeau agrees that he's heard it all before during the elections and re-elections of George W Bush and Barack Obama. He told Vox, the threats showed Americans were realising how important the election was and needed "to make sure their voices get heard".
Despite the rarity there have been some politically motivated moves.
Tom Kertes moved with his husband from Seattle to Canada after President George W Bush proposed to ban same-sex marriage in 2005. He told the Guardian: "If Americans want to live in a country where there is an investment in public education, where people aren't afraid of going bankrupt because they get sick, and where democracy is taken seriously, they should move, because an alternative exists."
David Cohen, a Canadian immigration attorney, is sceptical any Americans would actually make the move, quoting Shakespeare he said: "it's much ado about nothing."
Americans are extremely patriotic people and politics doesn't really play a part in why people move, he said.
But things could change if Mr Trump became president and carried out some of the controversial policies he's talked about. America would change, says Mr Cohen and "all bets would be off".