Veteran CBS News journalist Morley Safer dies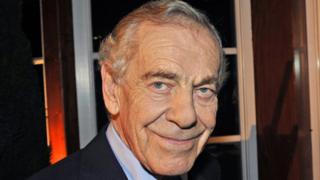 Morley Safer, who retired from CBS News just days ago, has died at age 84 after a 61-year career in journalism.
CBS News, which announced his retirement last week, confirmed his death on Thursday but did not give a specific cause.
The Canadian-American was a correspondent on the programme 60 Minutes for 46 years, joining in 1970.
The programme recently ran a tribute for him and said he had the longest-ever run on US prime-time television.
He was known for claiming "there is no such thing as the common man", and if there were, "there would be no need for journalists".
During his career, he reported on a broad range of topics, including war, cyberspace, social injustices and art.
Jeff Fager, executive producer for 60 Minutes, tweeted that Safer was a "masterful storyteller, an inspiration to many of us and a wonderful friend" who "never carried himself as if he was important - he was a reporter".
His first report, the AP news agency notes, was about training US Sky Marshals, and his last was a profile of Danish architect Bjarke Ingels.
He had been dealing with "health issues" and cut down on his time with the programme before his retirement.
As the first Saigon bureau chief for CBS News, his reporting helped shape public attitudes on the Vietnam War.
Words are more important than visuals when it comes to storytelling, he said.
"I really don't like being on television. I find it intimidating," he said, but that he had grown accustomed to it and "the money's very good."
Journalists and writers took to Twitter to express their sadness at the news of his death and their admiration of his work over his long career in broadcasting.
When CBS colleague Mike Wallace died in 2012, Safer had his own kind words to say about him, saying he "took to heart the old reporter's pledge to comfort the afflicted and afflict the comfortable".
CNN anchor Anderson Cooper tweeted that "there was no one else" like Safer.
On 15 May Safer tweeted about his retirement from 60 Minutes, thanking his loyal viewers.