More young Americans 'living with parents'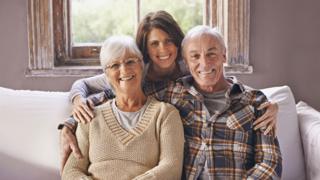 Living with a parent is now the most common living arrangement for young Americans, new research suggests.
For the first time in more than 130 years, adults aged 18 to 34 are more likely to live in their parents' home than with a partner.
The study by Pew Research Center indicates 32.1% living with parents in 2014, 31.6% living with a spouse or partner, and 14% living alone.
It says demographical shifts in marital status and employment are behind it.
"This turn of events is fuelled primarily by the dramatic drop in the share of young Americans who are choosing to settle down romantically before age 35," says the Pew report.
Historically, the most common living arrangement for young adults was living with a partner - in 1960 nearly two-thirds of young Americans were doing so, and only one in five lived with a parent.
Since then, the median age of the first marriage has risen steadily, with some postponing it all together.
In addition, says the research, as employment among young men has fallen, and wages remain stagnant, so the number who are living with parents has risen.