Justice for Harambe: Mother harassed online after gorilla shot dead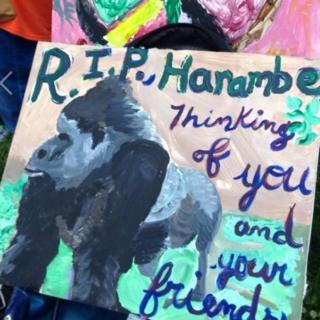 The mother of a boy who fell into a gorilla enclosure at a US zoo has become the victim of online abuse after zookeepers shot the animal dead.
Harambe, a 17-year-old gorilla, was captured on video dragging the child across a moat in the enclosure.
The boy's mother, identified on social media as Michelle Gregg, is heard shouting in footage of the incident.
She tells her son to remain calm, after he had climbed through a barrier and fallen into the pen at Cincinnati Zoo.
A Facebook post, purportedly written by Michelle Gregg, thanked "the right people" for being "in the right place" and said "accidents happen".
Ms Gregg later became the focus of a furious online backlash after zoo officials defended the decision to shoot the animal.
Eddie Whrnbrg wrote on Facebook: "...the zoos aren't the problem. It's the idiotic parents."
On Twitter @blxxm83 wrote: "So lazy parents can't control their wild kids and a beautiful endangered animal gets shot and killed because of it? #Harambe #RIPHarambe"
In another tweet @brittrosenthal wrote "Sad thing is it looked like #Harambe was protecting the kid more than the parent was. #CincinnatiZoo"
Some even called for Ms Gregg to be dismissed from her job.
Ms Gregg posted on Facebook after the incident and at about the same time a Facebook group called Justice for Harambe was set up.
An online petition signed by more than 300,000 people was also created, calling for her to be held accountable for Harambe's death.
Michelle Gregg's Facebook page has since been deleted, after many accused her of being a bad mother.
Other social media users with the same name have been dragged into the debate after being mistakenly targeted.
This Facebook user even changed her profile picture and posted: "There is some pretty foul language in these emails... but here are some I've received today. I have also received tons of emails of people apologising for what others have said to me."
In contrast to more than 100,000 likes on the Justice for Harambe page, a Facebook group in support of Ms Gregg has attracted just over 300 likes.
One of its most recent posts reads: "#ISupportMichelleGregg As to the people writing disgusting things I hope you guys have a good night knowing all of you are hypocrites. Don't scream for justice and then turn around and wish death on a child."
Emily Rose Clifford wrote on Facebook: "I don't normally even voice my opinion on these types of things but I just feel so sorry for this mother. I know as a mother that things and accidents can happen in the blink of an eye, even if you are a good mum."