Five cyclists killed in Michigan hit-and-run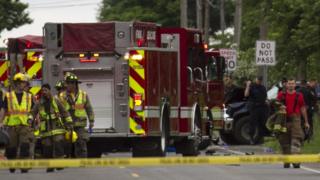 Five cyclists were killed and another four hurt in a hit-and-run incident in the US state of Michigan, police say.
The cyclists were struck by a pickup truck that was seen being driven erratically only minutes earlier, police in Kalamazoo said.
The driver of the truck, a 50-year-old man from Michigan, fled the scene and was arrested nearby soon afterwards.
A hospital spokesman said one of the injured cyclists was in a serious condition.
Kalamazoo County Prosecutor Jeffrey Getting told a news conference there had been a number of alerts about the blue Chevrolet's erratic driving, but that a police chase was not under way when it crashed.
One witness, Markus Eberhard, told Kalamazoo broadcaster WOOD the truck almost drove over his foot before heading towards the cyclists.
"I saw a bunch of bikes hit the front of his truck and a couple of them flew," he said.