Bicycle thief suspect lassoed by rancher in Oregon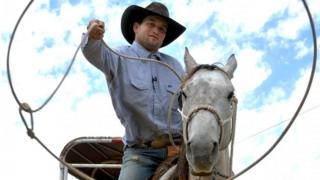 A rancher in the US state of Oregon has used his lassoing skills to nab a would-be thief, police say.
Robert Borba told local media he reacted when he heard a woman scream that someone was trying to steal her bicycle from a bike rack outside a Walmart store in Eagle Point.
Mr Borba said he got his horse out of its trailer and cornered the suspect before lassoing him around the legs.
He added that he used a rope every day to make a living.
"I hear a lady screaming: 'Stop him! He stole my bike!" he told KOBI-TV NBC 5 channel.
He said he got on his horse and rode over to the man who was apparently struggling with the bike gears and then decided to flee on foot.
"I just roped him and the rope went down around his feet and I just rode off like I would if I'd roped a cow or something by myself".
The rancher said the would-be thief then tried to grab a tree and escape, but he managed to keep the rope tight until police arrived and arrested the suspect.
He also told the Medford Mail Tribune that if a rope "catches cattle pretty good, it catches a bandit pretty good".