Orlando shooting: What eyewitnesses have said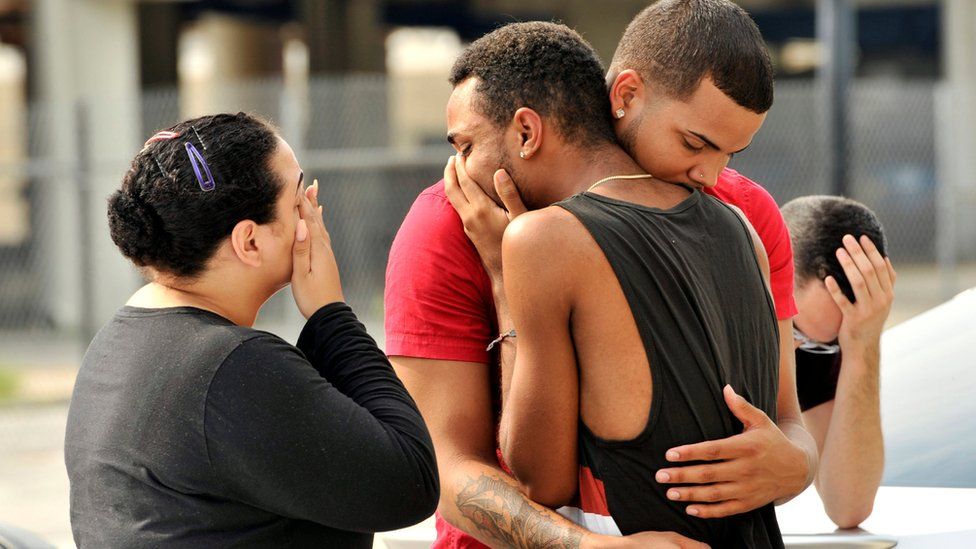 Forty-nine people are dead and dozens more injured after a shooting in a gay nightclub in Orlando, Florida. On Sunday, police said 50 people had been killed but on Monday they revised that figure downwards to exclude the gunman from the death toll. Eyewitnesses who were at the club have been sharing what they saw.
Christopher Hansen described the incident as like being "at a gun range".
"It's like you were at a gun range, and all you hear is just 'boom' and 'bang, bang', and it was just.... I don't think anybody really knew what was going on until they saw people on the ground bleeding and heard people screaming and heard the commotion."
Jackie Smith was inside the club and told the AP the two friends next to her were shot.
"Some guy walked in and started shooting everybody," Smith said. "He had an automatic rifle, so nobody stood a chance. I just tried to get out of there.''
In an interview with the BBC, eyewitness Ricardo Negron Almodovar said he was lying on the ground, hearing screaming all around him, when he realised the group he was with had a chance to escape.
Hiding in a dressing room
Twitter user @GoEmili0 tweeted earlier that he and three others were hiding in a dressing room in the club during the shooting.
He later tweeted that he was safely out of the venue.
He has since deleted the tweets.
Fatriana Evans was outside when shots were fired.
Evans told the AP news agency it sounded like "fireworks - pop, pop, pop - and then everybody scatters".
Jon Alamo said he saw a man holding a weapon walking into the room he was in.
"I heard 20, 40, 50 shots," he said. "The music stopped."
'Pulling people out in stretchers'
Eyewitness Anthony Torres wrote about his experience on Facebook. He and his friends decided to leave Pulse just before the shooting started.
"Shots fired Pulse Orlando... made it out just barely as we started to hear fire being shot !! People are screaming that people are dead !! Crazy...
"They are just pulling people out in stretchers loading them up.. Omg please god let everyone make it - tonight was supposed to be a fun night!! One more minute and we would of been shot or worse."
Nic Hornstein, who was staying across from Pulse, told the BBC he was woken up by gunfire.
"I looked out of my window to see people running out of the club," he said.