'I'm gay and Muslim - Orlando shooter doesn't reflect my faith'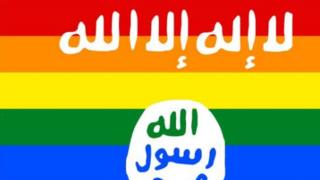 Moments after news emerged of the deadly shooting in Orlando on Sunday, thousands of people took to social media to express their outrage and grief.
US President Barack Obama called the attack in the Pulse nightclub "an act of terror and an act of hate".
Among those posting, a number of Muslims, some of whom are openly gay, voiced their shock and disbelief as details trickled through that the shooter Omar Mateen, might have been a homophobic sympathiser with so-called Islamic State (IS).
Who was the Orlando club gunman?
@rafat tweeted "As an American Muslim in month of Ramadan hard to comprehend except to say LGBT community has stood for us, our time to do same #Orlando
@WajahatAli tweeted: "As an American Muslim I stand in solidarity with LGBT brothers and sisters after this horrific #Orlando shooting. Let me know how I can help."
Live updates: Orlando shooting
A number of hashtags were used including #NotInMyName and #NotmyIslam, as Muslims turned to social media to denounce the attack.
Wilfredo Amr Ruiz from the Council on American-Islamic Relations in Florida said: "Our thoughts and prayers and condolences are with the victims of this heinous act. In this holy month of Ramadan many Muslims will be offering their fasting and prayers for them and their families.
"The vile criminal who perpetrated this does not represent Islam nor the American Muslim community.
"We are organising multiple blood drives around the State as well as collecting funds for the victims' families."
"So far we have raised almost £26,000."
Mahmoud ElAwadi donated blood hours after the attack in which 49 people were killed and 53 injured. His post about the experience on Facebook. has been shared more than 109,000 times.
"Yes I donated blood even though I can't eat or drink anything cause I'm fasting in our holy month Ramadan just like hundreds of other Muslims who donated here in Orlando," he wrote.
"Yes I'm angry for what happened last night and all the innocent lives lost.
"I'm sad, frustrated and mad that a crazy guy claimed to be a Muslim did that shameful act.
"Yes our blood all looks the same so get out there and donate blood cause our fellow American citizens are injured."
Some people criticised pressure on Muslims to apologise on social media on behalf of their coreligionists.
@ClarkKent2215 posted: "I think Muslims are the only ones that after every single attack have to go on Twitter and 'apologize' for something we didn't do."
@TheKhadegaMo tweeted: "I will not apologize. Terrorism knows no religion and violence has no place in Islam #NotInMyname."