First Lady Michelle Obama joins Snapchat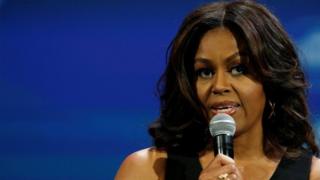 First Lady Michelle Obama has joined the messaging app Snapchat ahead of her trip to Liberia, Morocco and Spain to promote education for girls.
The socially-savvy First Lady is aiming to connect with young people on the popular app, where posts disappear within 24 hours.
She hopes to use it to publicise her trip but her first post was a selfie.
She also previewed her appearance on Late Late Show host James Corden's viral segment, Carpool Karaoke.
Kelsey Donohue, who works in the Obama's communication office, announced the First Lady's debut on Snapchat in a Medium blog post.
Followers can expect a glimpse of the First Lady's daily life, ranging from snaps of the White House Kitchen Garden to tips on staying active as a part of her Let's Move! campaign.
The First Lady will also use her new account to showcase her upcoming trip, with guest appearances from actresses Meryl Streep and Freida Pinto in Africa.
Mrs Obama's teen daughters Malia and Sasha will also accompany her on the trip.
She maintains an active social media presence, with 4.58m followers on Twitter and 5m on Instagram.