Two California men convicted of plotting to support IS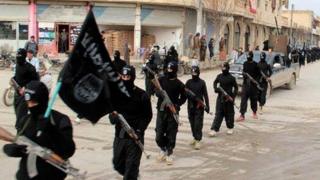 Two men from California have been found guilty of plotting to provide material support to the so-called Islamic State (IS) militant group.
A federal court convicted Nader Elhuzayel and Muhanad Badawi, both 25, after a two-week trial.
The pair were arrested last year after Elhuzayel attempted to board a Los Angeles plane headed to Turkey with the intent of joining IS.
Badawi had bought Elhuzayel a one-way ticket to Israel via Istanbul.
The two Anaheim, California, residents had "expressed a desire to die as martyrs" on social media, according to a statement from the US attorney's office.
Prosecutors also said a Facebook account appearing to belong to Badawi featured posts showing he intended to join IS.
Elhuzayel had a Facebook account displaying the IS flag as his profile picture.
The pair also made a video in which Elhuzayel swore allegiance to Abu Bakr al-Baghdadi, the leader of IS, and vowed to travel to Syria to join the group, according to court documents.
Stolen cheques
Elhuzayel was also convicted of 26 counts of bank fraud for depositing stolen cheques into his personal accounts and then withdrawing cash at different branches in Orange County.
The stolen cash was intended to finance Elhuzayel's journey to Syria join IS, according to prosecutors.
Badawi was also found guilty of using his financial aid to purchase Elhuzayel's ticket to Turkey.
Both men face up to 15 years in prison on each count of providing material support to IS.
Elhuzayel also faces up to 30 years in federal prison on each bank fraud count while Badawi could serve an additional five years for the financial aid fraud count.
Elhuzayel is scheduled to be sentenced on 19 September while Badawi is due back in court on 26 September.