Grieving US father on 'drugs rescue' raid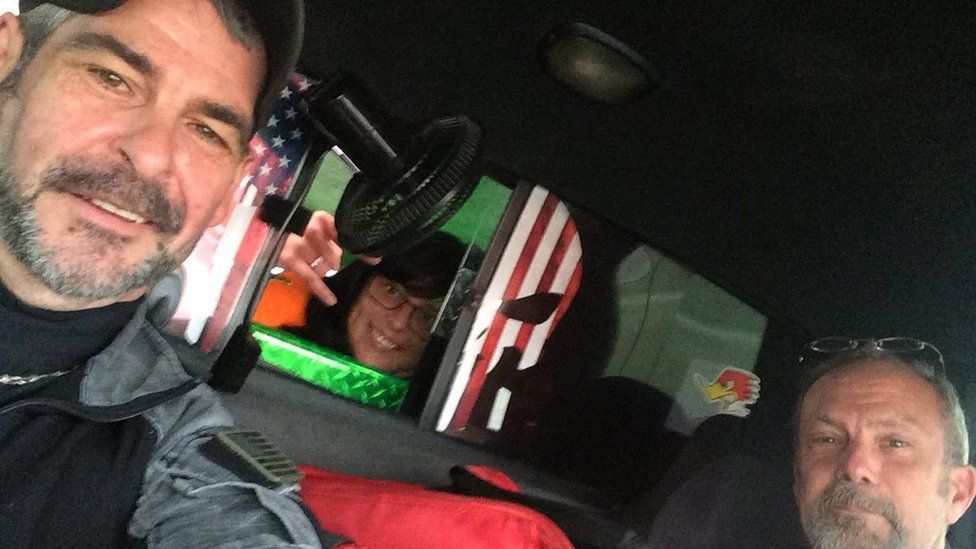 A man who lost his daughter to heroin has been arrested driving into New York with a cache of weapons to "rescue" another girl from a drug dealer.
John Cramsey's 20-year-old daughter died from a heroin overdose four months earlier in Allentown, Pennsylvania.
He and two friends Dean Smith and Kimberly Arendt were stopped by police for driving with a cracked windscreen.
They told the arresting police officers that they were a group of vigilantes on their way to rescue a teenage girl.
All three are facing weapons charges. Although the guns may have been legally owned, transporting them into New York City is illegal.
A camouflage helmet, seven guns including rifles, and knives were recovered from the car, as well as cannabis, body armour and 2,000 rounds of ammunition.
An ammunition can labelled "shoot your local heroin dealer" was also removed from the modified truck, which is decorated with neon green stickers and an image of the US Constitution.
They claimed to be on their way to do an "extraction" of a 16-year-old girl that was being held by a drug dealer.
The girl, they say, had been with a friend who had just overdosed on heroin when she became scared and called for their help.
Mr Cramsey has been outspoken about the need to curb heroin use in Allentown after his daughter's death.
According to local media, he frequently attends community meetings and started a group called "Enough is Enough" to tackle drug use.
"He has since been on a mission to save as many of our children from the heroin dealers as possible," his friend Susan Hirst said on Facebook.
Earlier on Tuesday Mr Cramsey posted a tribute to his daughter, who had died exactly four months earlier.
"Please give me the Strength to continue taking this fight to the Evil Darkness that has not just taken my Sunshine away leaving me in eternal darkness," he wrote.
The heroin crisis gripping the US is its worst drugs epidemic for more than 60 years, according to a recent State Department briefing.
In the last five years, heroin consumption has doubled while cocaine use has halved.
More on the US heroin problems