Bill Cunningham, New York Times fashion photographer, dies at 87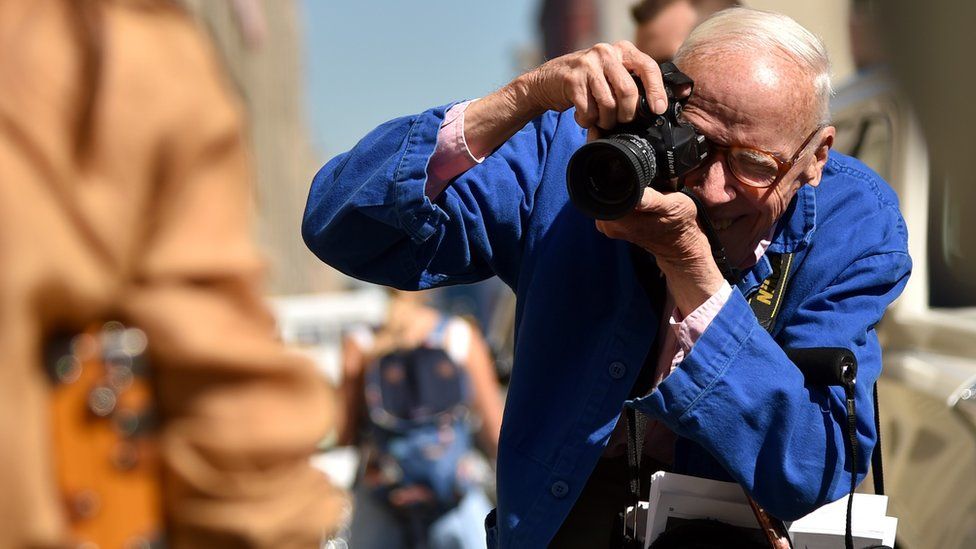 Veteran fashion photographer Bill Cunningham, who made his name chronicling trends on the streets of New York, has died aged 87.
Cunningham spent almost 40 years working for the New York Times, which confirmed his death and called him an "unlikely cultural anthropologist".
His spreads were a staple of the style section.
"We will remember the vivid, vivacious New York he captured in his photos," said New York Mayor Bill de Blasio.
Arriving in New York aged 19, Cunningham first worked as a hat maker before becoming a fashion writer and then moving into photography.
Wearing his trademark blue jacket and travelling on a bicycle, he was credited as having a unique eye for emerging fashion, whether on the streets or at industry events.
But despite his connection to the fashion elite, he lived modestly. In its obituary, the NYT said he ate his breakfast of coffee and sausage, egg and cheese almost every day at the same deli for years.
Asked why he kept tearing up cheques he received, Cunningham said: "Money's the cheapest thing. Liberty and freedom is the most expensive."
The French government awarded him a Legion d'Honneur for his work, while he was named a Living Landmark by the New York Landmarks Conservancy.
Cunningham had recently suffered a stroke.
"His company was sought after by the fashion world's rich and powerful, yet he remained one of the kindest, most gentle and humble people I have ever met," said NYT Chairman Arthur Ochs Sulzberger Jr.
"We have lost a legend, and I am personally heartbroken to have lost a friend."