Orlando alligator: 'Second' animal involved in attack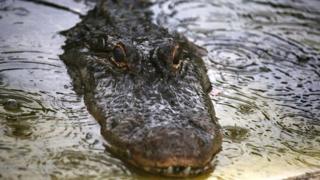 The father of a toddler killed by an alligator at Disney World in Florida in June is reported to have said that two animals were involved in the attack.
According to public records, Matt Graves said he was attacked by a second alligator as he tried to rescue his son.
It was previously reported that only one animal was involved in the attack.
Police found the body of Lane Graves from Nebraska in the water two days after he was seized on 14 June.
The records obtained by the Orlando Sentinel from the Reedy Creek Fire Department describe how Mr Graves tried to extract his son from the jaws of the alligator as he wrestled with it. His wife Melissa screamed for a lifeguard to help.
It is the first time details about the attack from Mr Graves' perspective have been released.
The records show that the distraught father initially refused to leave the area of the attack - as rescuers searched for his son - despite needing stitches and antibiotics for alligator bites.
While travelling to hospital Mr Graves described "the horror that he experienced" as his son was being dragged into the water and how "another gator attacked him as he fought for his son,'' the email records show.
Orange County Sheriff's Office spokesman Angelo Nieves told the Orlando Sentinel that a witness also saw a second alligator attack Mr Graves.
Immediately after the attack, five alligators were seized and killed in an attempt to find the boy's remains.
Later the Florida Fish and Wildlife Conservation Commission announced that it had caught the alligator that had grabbed the boy.
Read more: How often do alligators attack people?