Canadian man fights off black bear with boxing skills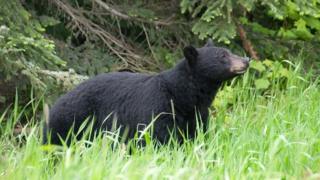 A Canadian man has fought off a 320lb (145kg) black bear with skills he learned from years as a boxer.
Rick Nelson, 61, from Ontario was walking his dog when a cub poked its head out of a shrub. Moments later, its mother charged out of the bushes and attacked.
He fought off the mother bear with his bare fists, walking away with just minor scratches on his face and chest.
The Canadian forestry ministry says that attacks by black bears are rare.
After several swings from Mr Nelson, the bear walked away from the fight with a bloody nose.
Mr Nelson said: "It just turned back around and walked away like nothing ever happened and followed the cub. So I really lucked out there."
Despite his encounter, Mr Nelson told a Canadian broadcaster that he did not want people to fear black bears.
The Government of Ontario says black bears usually avoid contact with humans.