US election: Media see Clinton 'unity' vs Trump 'fear'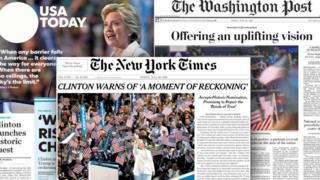 Media commentators believe Hillary Clinton delivered a competent and convincing riposte to Donald Trump in her acceptance speech, but some wonder whether she has done enough to dispel lingering doubts.
The New York Times says Hillary Clinton's confirmation as the first female US presidential nominee brings "women's full participation in American democracy a big step closer".
It also praises her speech for having "at a moment when political discourse is divisive and dark, acknowledged stiff challenges but summoned optimism".
ABC News says that after a fractious start to the Democratic convention, Mrs Clinton's speech has left a "party that looked and potentially bigger than it did just a few days ago".
But in the New York Post, John Podhoretz feels Mrs Clinton "blew her big moment", and compares her speech to a jelly his Aunt Milly used to make: "Blandly gelatinous in flavour and texture with little pieces of boilerplate left-liberal policy suspended in it like peach chunks from a three-week-old can."
'Hope vs fear'
Most papers home in on what they see as her attempt to portray herself as the opposite to Donald Trump by stressing unity and experience against Mr Trump's populism.
USA Today says she made an "extensive case" against Mr Trump, and adds that while both nominees are "imperfect", the Republican candidate is "so erratic" that he fails the criterion of being "sane, competent".
"An uplifting vision," says The Washington Post's front-page headline of Mrs Clinton's speech, adding that her speech cast her race against Donald Trump as "hope vs fear, unity vs division".
But Charles Krauthammer is sceptical, feeling Mrs Clinton has found "no counter" to Donald Trump's ability to capture the sense of "economic, social and spiritual disintegration of those left behind by globalisation and economic transformation".
Mrs Clinton's speech was also avidly following by media aimed at the US Latino community, which is thought to lean strongly in her favour.
Univision - considered the United States' largest Spanish-language media outlet - praised her as the "candidate of unity" and an "antidote" to the "fear incited by Donald Trump".
'Solid and vigorous'
Outside the US, Mrs Clinton's speech came too late for most print editions but was widely covered online.
A panel of writers in the UK's Guardian is positive about the speech on the whole, with US journalist Jill Abramson describing it as an "artful response to Trump".
But Stephen W Thrasher felt "left out in the cold", despite his professed desire to "get on Team Clinton".
German paper Sueddeutsche Zeitung is unconvinced by Mrs Clinton's attempt to appeal to the "left behind and forgotten" of globalisation who are defecting to the Republicans in "droves", arguing that it comes too late in a political career spanning decades.
Frankfurter Allgemeine Zeitung says Mrs Clinton has presented her "battle plan" - to contrast her experience with the "foreign policy cluelessness" of Mr Trump - but doubts whether today's American voters are receptive to this message any more.
French daily Liberation says Mrs Clinton's "solid and vigorous" performance positioned herself as a "unifier trying to divert Americans from the alarmist and populist message" of Donald Trump.
A commentary in Italy's La Repubblica felt Mrs Clinton gave a "coherent speech and showed herself to be a sensible person - in contrast" to Mr Trump.
Spain's El Mundo found that while Mrs Clinton was "no great orator", it thinks her speech had "moments of brilliance," especially when attacking Mr Trump and his "pessimism and rhetoric of confrontation".
In Russia, an article in business paper Kommersant believes Democrats will try to paint Mr Trump as "Putin's candidate", adding that with US-Russian relations in a "dire state", this could become a "strong argument".
State news channel Rossiya 24 appeared keen to keep its distance from the two candidates, saying that "American voters are, obviously, tired" of both Clinton and Trump, "who have been accusing each other of all sins lately".
BBC Monitoring reports and analyses news from TV, radio, web and print media around the world. You can follow BBC Monitoring on Twitter and Facebook.