Criminal Minds star Thomas Gibson sacked after hitting producer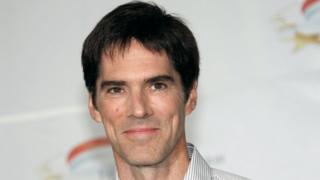 Actor Thomas Gibson has been sacked as the star of the TV programme Criminal Minds after he struck a producer.
Gibson was involved in a physical altercation on the set of the show in Los Angeles last month.
ABC Studios and CBS Television Studios, which produce the series, announced his dismissal in a joint statement.
Gibson, who played Special Agent Aaron Hotchner, issued an apology on Thursday before his termination was announced.
"There were creative differences on the set and a disagreement. I regret that it occurred," he said in a statement.
Details on how Gibson's character will be written out of the show, which follows a team of FBI agents, is expected to come at a later date, according to the ABC Studios and CBS Television Studios statement.
The 54-year-old, who previously starred on the sitcom Dharma & Greg, had been on the show since its first season in 2005.
"I love Criminal Minds and have put my heart and soul into it for the last twelve years," Gibson said in a statement released on Friday.
"I had hoped to see it through to the end, but that won't be possible now. I would just like to say thank you to the writers, producers, actors, our amazing crew, and, most importantly, the best fans that a show could ever hope to have."
The show is slated to return for its twelfth season on 28 September.