US anthem protest: Megan Rapinoe denied by Washington Spirit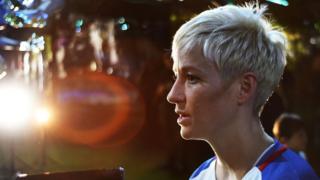 A US soccer team has played the national anthem without players being present to prevent a protest.
Washington Spirit played the anthem before the National Women's League team game with Seattle Reign before the players were allowed onto the pitch.
Megan Rapinoe of Seattle Reign had knelt during the Star Spangled Banner at a game the previous Sunday.
Rapinoe said her protest was in solidarity with American football player Colin Kaepernick.
Kaepernick, an NFL quarterback for San Francisco 49ers, has been heavily criticised since refusing to stand during the anthem in a protest about race relations in the US.
He said he would not stand for the anthem until he saw an improvement.
On Sunday, Rapinoe told reporters that the treatment of Kaepernick was "disgusting" and "we need to have a more thoughtful, two-sided conversation about racial issues in this country".
"Being a gay American, I know what it means to look at the flag and not have it protect all of your liberties," she said.
However, Washington Spirit said in a statement that team owner Bill Lynch had lost friends in overseas conflict, and such a "hijacking" of the event would be "insulting our military and our fans".
Rapinoe, who also plays for the US national team, told the Washington Post that to refer to "hijacking" four days before the anniversary of 9/11 "was incredibly distasteful".
Constitutional right
Kaepernick's protest has divided public opinion in the US, but President Barack Obama said the sportsman was exercising his constitutional right.
"If nothing else, what he's done is he's generated more conversation around some topics that need to be talked about," the president said.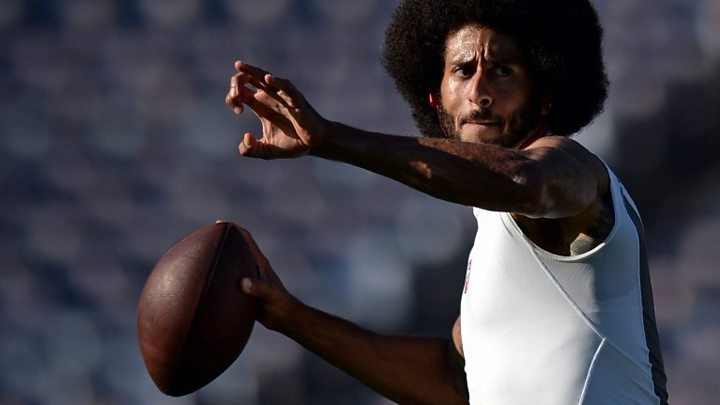 He added he would rather have young people engaged in the argument in a democratic process than "people who are just sitting on the sidelines and not paying attention at all".
Others, including Republican presidential candidate Donald Trump, have criticised the protest.
"I think it's a terrible thing, and you know, maybe he should find a country that works better for him," Mr Trump told KIRO radio in Seattle. "Let him try. It won't happen."