Ohio police officer kills black teenager 'who drew BB gun'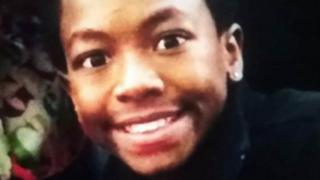 A 13-year-old black boy has been shot dead by police in the US state of Ohio after allegedly pulling an air gun from his waistband while being arrested.
Officers responded to a report of an armed robbery of $10 in Columbus when they saw three male suspects matching descriptions given by the victim.
Two then ran off and were followed by police to an alley.
There, police say, Tyre King pulled out the gun and was shot multiple times by a white officer.
Police later established the boy had actually been carrying a BB gun - a type of sporting air gun that is designed to shoot pellets - with an attached laser sight.
After the shooting, Tyre King was taken to a children's hospital, where he died.
The other suspect found with him in the alley was questioned and released pending further investigation.
More suspects are being pursued, police say.
On Thursday, Mayor Andrew Ginther appeared to choke up as he questioned why an eighth-grader would have a replica of a police firearm.
"There is something wrong in this country, and it is bringing its epidemic to our city streets," he said.
"And a 13-year-old is dead in the city of Columbus because of our obsession with guns and violence."
In a 911 call recorded during the incident, obtained by The Columbus Dispatch, the alleged victim said the amount involved in the robbery was just $10 (£7.55).
He also said he thought the weapon looked like a Ruger semi-automatic pistol.
Minutes later in the call, sirens can be heard in the background before a witness says "he's shooting him! Oh, my God!'"
In a press conference on Thursday morning, Chief of Police Kim Jacobs said the gun looked "practically identical" to the police-issue weapon.
Columbus police said the officer involved, a nine-year veteran Brian Mason, had been placed on leave.
Police records show that in 2012 he shot and killed a man who was holding another person at gunpoint.
Investigators cleared him, reports the Columbus Dispatch.
Social media users are comparing Tyre King's death to the shooting of another black child in the state.
In 2014, Tamir Rice, 12, was shot and killed by a white police officer in Cleveland while he was playing with a pellet gun outside a recreation centre.
The rookie officer who shot the boy was cleared of wrongdoing along with his partner.
The city agreed earlier this year to pay $6m (£4.14m) to his family.