Minnesota mall knifeman was student, says father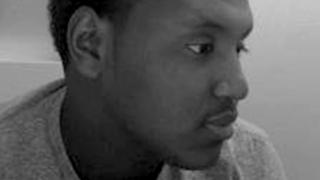 A knifeman who stabbed 10 people at a Minnesota shopping centre at the weekend has been identified as 20-year-old student Dahir A Adan.
Adan was a Kenyan-born ethnic Somali who a family friend has called "the most assimilated kid in the neighbourhood".
His father had "no suspicion" that his son, who came to the US as a three month-old, was involved in extremism.
No one died in Saturday evening's attack at the Crossroads Center mall.
An Islamic State group-affiliated news agency, Rasd, called the Minnesota attacker a "soldier of the Islamic State".
The stabbings were not apparently connected to the weekend's bombings in New York and New Jersey, President Barack Obama said.
"He was an A student. He was a tutor. He was employed," said Jama Alimad, a Somali community advocate who knows the family well.
A statement from the Adan family expressed condolences to those injured in the attack.
"As we mourn the death of our son, Dahir Adan, who was very dear to us, we are in deep shock as everyone else is in the state of Minnesota", the statement said.
Adan, who was carrying a kitchen knife, reportedly made at least one reference to Allah and asked a victim if he or she was Muslim before attacking, said police.
He had been working as a security guard for a home products' store at the mall, and was apparently wearing his work uniform during the attack.
Ryan Schliep, who was injured during the attack, told WCCO-TV that Adan "just walked right at me" before stabbing him in the head.
"He looked just blank in the eyes like he wasn't even there," Mr Schliep said.
Ahmed Ali, who was Adan's football coach, said that he received a phone call from him two days before the attack to ask for weight-loss advice.
"He wanted to lose 17 pounds [7.7 kg]," Mr Ali told the Minnesota Star Tribune, recalling how Adan always seemed calm and never aggressive, even on the football pitch.
"Dahir wasn't a social guy. He wasn't a friendly guy who got to know everybody.
"He was a good person. A person who dealt with people in a nice way.
"He was more interested with school, work and losing weight."
The victims included eight men, one woman and a teenage girl at the shopping centre in St Cloud, 70 miles (110km) out of Minneapolis.
The knifeman was shot and killed by an off-duty police officer.
Police had three previous encounters with the attacker, mostly for minor traffic violations, Police Chief Blair Anderson said.
Adan was a student at St Cloud State University, but had not been enrolled since spring.
Minnesota has the nation's largest Somali community, of about 50,000 or more, according to US census figures.
Jaylani Hussein, of the Council on American-Islamic Relations, expressed concern about a potential backlash against for community.
If confirmed as a terror attack, it would be the first carried out by a Somali on the US mainland.
The community has been a target in recent years for terrorism recruiters.
More than 20 young men have left the state in recent years to join al-Shabab in Somalia.
About a dozen others have left in recent years to join militants in Syria.
Nine Minnesota men currently await sentencing on terror charges for plotting to join the Islamic State group.