Miami Marlins baseball star Jose Fernandez dies in boat crash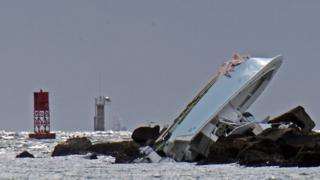 Jose Fernandez, a pitcher for the Miami Marlins baseball team, has died in a boat crash at the age of 24.
The US Coast Guard said Fernandez was one of three people killed in the crash on Sunday, off Miami Beach, Florida.
The club said it was "devastated". Marlins's home game against the Atlanta Braves on Sunday was cancelled.
Fernandez was born in Santa Clara, in Cuba, and defected to Florida when he was 16, after three failed attempts. He made his debut for the Marlins in 2013.
Miami-Dade Fire Rescue Chief Todd Garofalo told local news station WSVN: "They found a boat that was up against the jetties. They did do an initial search and they found three victims - two on top of the water, one underneath the boat and they had unfortunately passed away."
Jose Fernandez: Baseball's 'great young star'
The Florida Fish and Wildlife Conservation Commission said the 32-foot vessel had a "severe impact" with large rocks that form part of the jetty.
Officials said Fernandez was not wearing a life jacket at the time of the crash.
The names of the other two individuals are being withheld until their relatives can be informed, the Coast Guard said.
Fernandez shared a picture on Instagram five days ago which appears to show his girlfriend Carla Mendoza pregnant.
The caption reads: "I'm so glad you came into my life. I'm ready for where this journey is gonna take us together. #familyfirst."
Sports fans and players paid tribute to the player across social media. Fellow Cuban, Yasiel Puig, a right-fielder for the Los Angeles Dodgers, hung Fernandez's jersey in the dugout before his game against the Rockies, expressing his sadness on Twitter.
Rick Scott, the governor of Florida, shared on Twitter a picture of him and Fernandez and wrote: "I had the opportunity to meet Jose Fernandez in 2014. Our prayers are with his family and the Miami Marlins."
Former Miami Dolphins hall of fame quarterback Dan Marino tweeted Fernandez was an "inspiration".
Alex Rodriguez, renowned former player for the New York Yankees said he was "devastated".
The Major League Baseball organisation released a statement saying it was "stunned and devastated" by the news.
Fernandez was the club's first-round draft pick in 2011 and was finishing up on his finest season in the major league, the Miami Herald reported.