Hurricane Matthew: US states order evacuations as 'serious' storm looms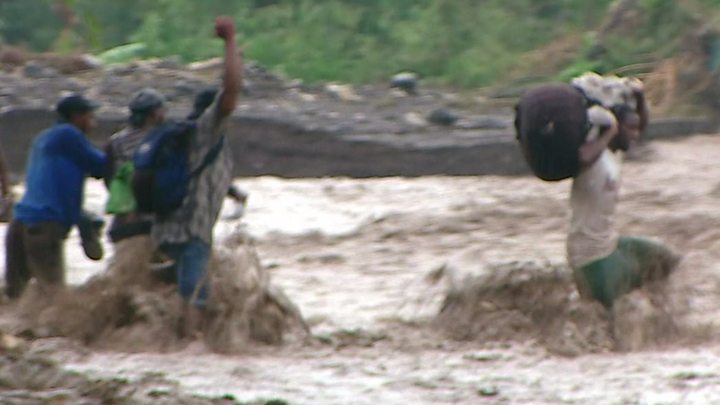 Hundreds of thousands of people in Florida and South Carolina have been told to evacuate as Hurricane Matthew churns towards the US east coast.
"This is a serious storm," warned President Barack Obama, adding that it would have a "significant" impact on Florida by Thursday morning.
Traffic jams are reported in the city of Charleston, in South Carolina, as residents flee the area.
The category three system is currently battering the Bahamas.
Matthew carved a trail of destruction across Haiti where thousands have been displaced and at least two people died.
The giant storm also hit Cuba. Early reports suggested its impact was not as bad as in Haiti, but the town of Baracoa in the province of Guantanamo was badly hit, destroying many homes and scattering debris in the streets.
An infrared satellite photo of Hurricane Matthew, resembling a human skull, has gone viral.
Paul Meyer, a NASA atmospheric scientist, told CNN that what appears to be the skull's "teeth" in the image are actually cold convective clouds.
Forecasters say the storm will move across the Bahamas and should reach Florida's east coast late on Thursday.
Although downgraded from category four to category three, it is packing sustained winds of up to 115mph (185km/h) as it grinds slowly north-northwest.
Matthew would be the first category three hurricane to make landfall in the US since Wilma struck Florida in 2005, causing five deaths and an estimated $23bn (£18bn) of damage.
In Florida, mandatory and voluntary evacuations were taking place on Wednesday in vulnerable areas.
"We will likely start to see impacts on Florida within the next 24 hours and through the weekend," Florida Governor Rick Scott tweeted.
The Florida Division of Emergency Management said Matthew was forecast to move parallel to the coast on Thursday and Friday.
President Barack Obama urged Florida residents to prepare for the hurricane and the tropical force winds it could bring, adding that it "could have a devastating effect".
"Now is the time for you to prepare in the event that you have to evacuate," Mr Obama said at the Federal Emergency Management Agency headquarters.
"Impacts will be dependent on the track Matthew takes; a more westward path would bring hurricane conditions to many east coast areas," it warned.
The National Hurricane Center in Miami issued a storm surge warning for the coast from West Palm Beach north to Palm Bay.
In the neighbouring state of Georgia, Governor Nathan Deal issued a state of emergency order for 13 counties while South Carolina Governor Nikki Haley said evacuations in part of the state would begin on Thursday.
Schools along South Carolina's Atlantic coast and in some central districts are to close.
In the Bahamas, Prime Minister Perry Christie urged residents in coastal areas to move to higher ground, the Nassau Guardian reported.
"If you live on the southern coast of any islands you will be exposed to risk," he said.
He warned that the main island of New Providence was due to take "a direct hit".
Cruise ships have been rerouted from their scheduled Caribbean and Bahamas ports to Key West in Florida.
In Haiti, at least 10,000 people were in shelters and there were reports of overcrowded hospitals suffering shortages of fresh water, Mourad Wahba, the UN special representative for Haiti, said.
The storm knocked down communications and blocked roads, hampering emergency efforts.
The collapse of a bridge cut off the only link between the capital, Port-au-Prince, and the southern part of the country, and officials said it would be difficult to reach the region.
At least 11 deaths have been blamed on the storm, five of which were reported in Haiti.
Haiti is one of the world's poorest countries, with many residents living in flimsy housing in flood-prone areas.
The UN said the country was facing the "largest humanitarian event" since a huge earthquake in 2010.
---
Have you been affected by Hurricane Matthew? Only if it safe to do so, you can share your experience by emailing haveyoursay@bbc.co.uk.
Please include a contact number if you are willing to speak to a BBC journalist. Please stay safe. You can also contact us in the following ways: